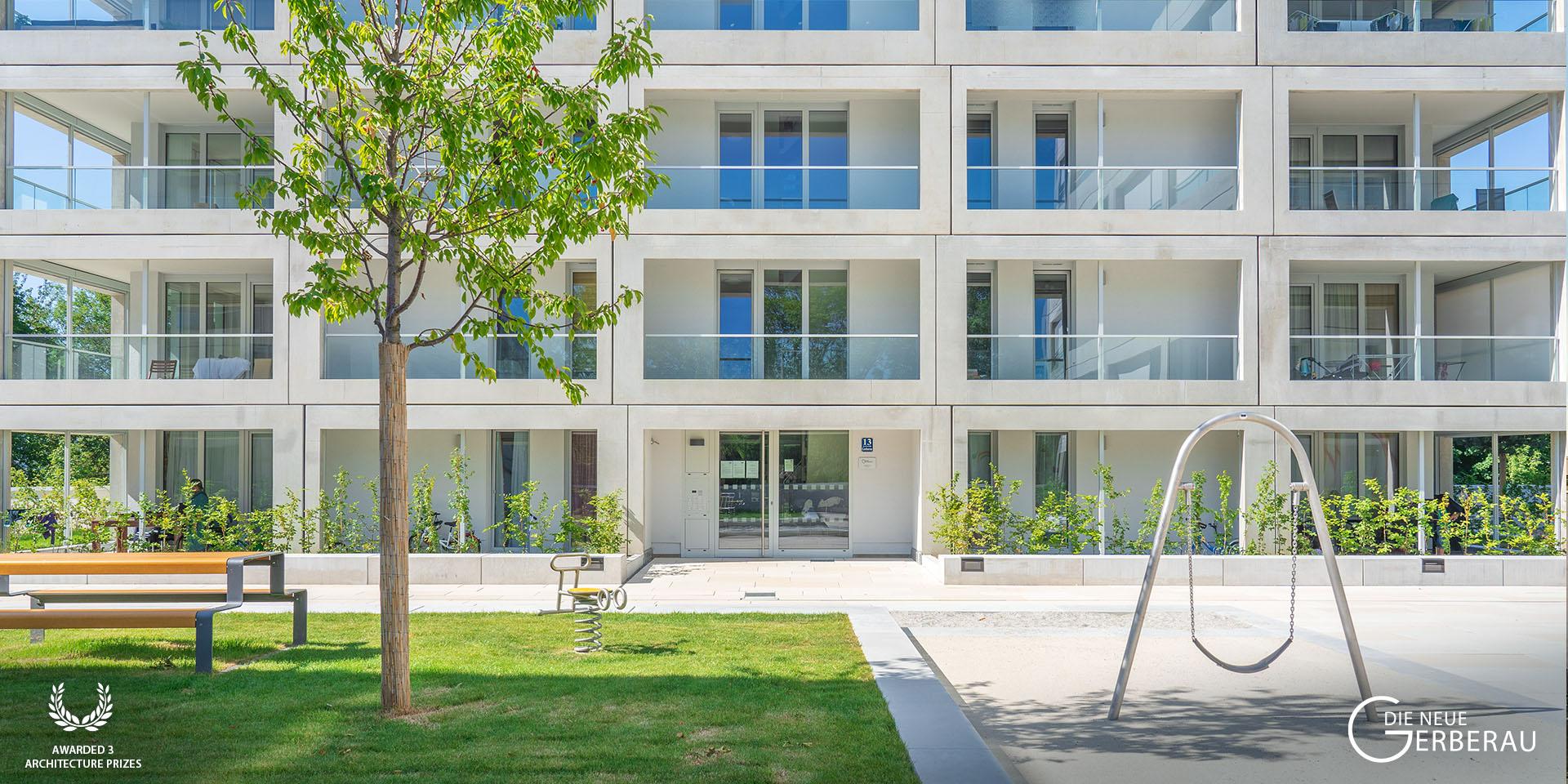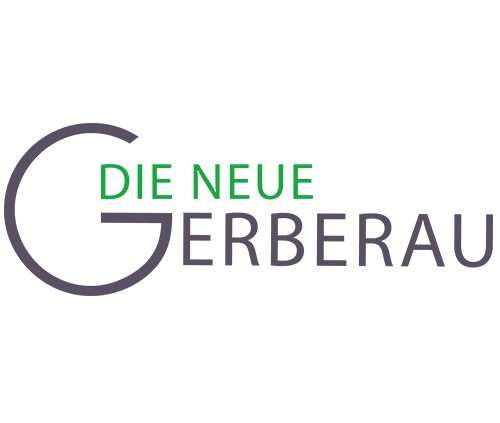 With the project "DIE NEUE GERBERAU", modern condominiums have been created in Munich's Allach district.

Consisting of five houses with a total of 153 apartments, all 2- to 5-room condominiums have floor-to-ceiling windows and high-quality furnishings. One of the highlights of each individual apartment is a surrounding loggia - on the ground floor partly with garden area. The spacious and car-free esplanade with its lovingly designed open spaces and green areas provides additional space and relaxation.

The residents of "DIE NEUE GERBERAU" benefit from excellent transport connections. The S-Bahn station München-Karlsfeld (S2) is only a few minutes' walk away, but you can also reach the motorway network very quickly by car via the A99 motorway. Thanks to this very good connection, Munich's city centre and numerous excursion destinations in the surrounding area can be reached in no time at all.

The project was completed in 2019.
---
"DIE NEUE GERBERAU" wins third architecture prize

In addition to the "best architects 20" award already won and the recognition in the "Landeswettbewerb Wohnungsbau Bayern 2019", our new building project "DIE NEUE GERBERAU" won another architecture award!

On March 3, the prize for "Qualität im Wohnungsbau 2019" ["Quality in Housing Construction 2019"] was awarded by the Bavarian Chamber of Architects and the BFW Landesverband Bayern e.V. at the Haus der Architektur Munich. During the festive award ceremony, it was also announced which 13 of the more than 60 submitted projects made it into the shortlist and which 5 projects received an award.

The prize for quality in residential construction was awarded to the architectural office Goetz Castorph Architekten und Stadtplaner GmbH and the property developers DEMOS Wohnbau GmbH and INDUWO Wohnbau GmbH for the project "DIE NEUE GERBERAU".

"They have made an outstanding contribution to building culture in Bavaria! Building alone is not enough, we also want to deliver good quality. Because residential buildings shape the image of our towns and villages. I am therefore particularly pleased that you think the issue of housing from a human perspective and thus not only shape our townscape but also our coexistence", said Bavaria's Minister of Construction, Kerstin Schreyer.

The coveted prize is awarded about every three years. Details of the shortlisted projects will soon be published on the homepage of the Bavarian Chamber of Architects. They will also be on display in an exhibition at various locations in Bavaria.

Source:
https://www.byak.de/aktuelles/newsdetail/preis-fuer-qualitaet-im-wohnungsbau-2019-1.html
---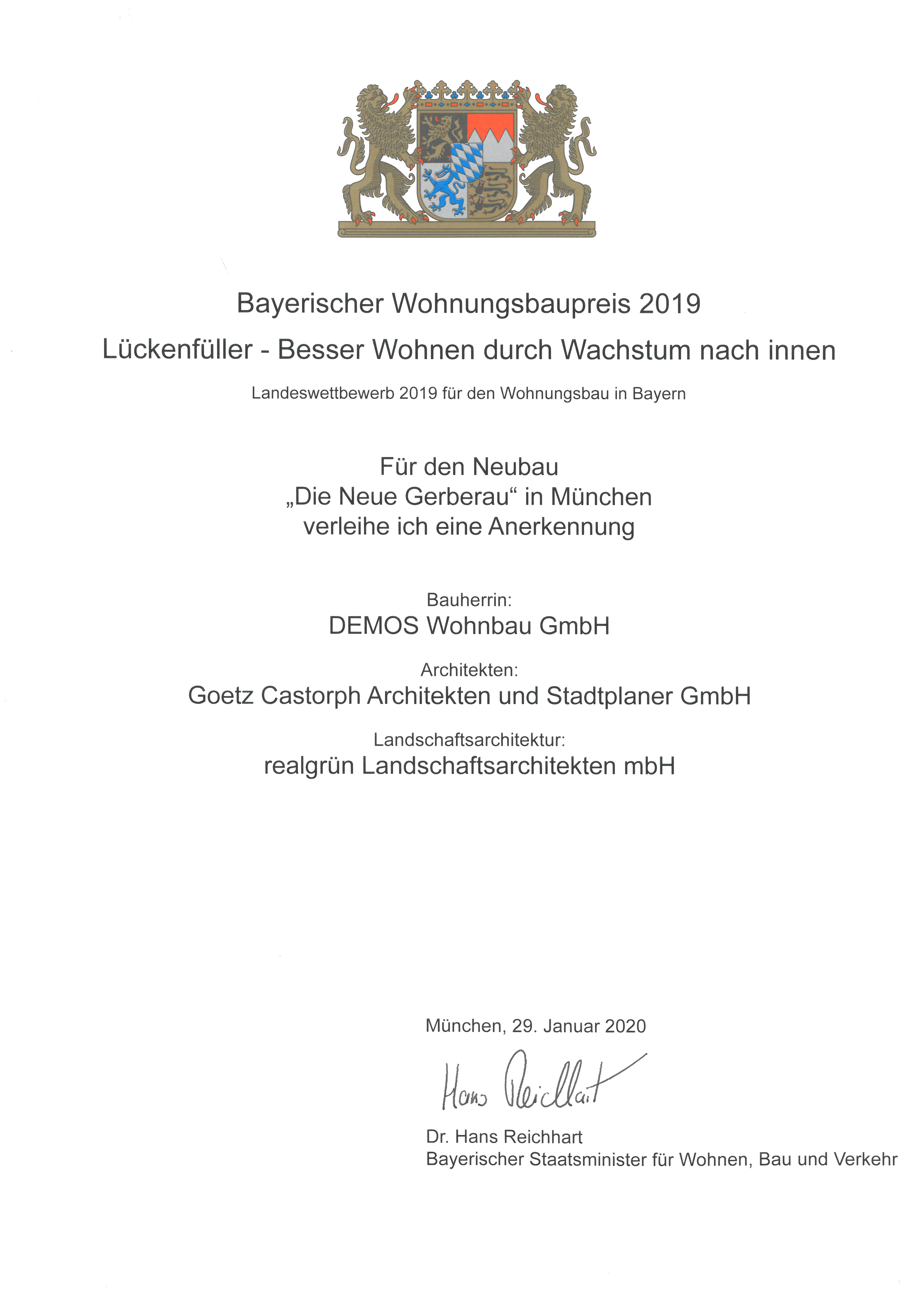 National Competition ´Wohnungsbau Bayern 2019´ [Residential Building Bavaria 2019]: "The new Gerberau" wins recognition

Our new residential building project "DIE NEUE GERBERAU" wins recognition by the Bavarian Ministry for Construction!

"The residential building market is booming, construction cranes are scattered all over the city. Nevertheless, not everything that is constructed is classified as high-quality architecture. Our aim is therefore to honour the offices which continue to tell the success story of Bavaria's history of building culture with their work and at the same time cherish our constructed environment", as Bavaria's Minister of Construction, Dr. Hans Reichhart stated.

Focus in the national competition in 2019, titled "Lückenfüller – Besser Wohnen durch Wachstum nach innen" [gap-filler – improved housing by inwards growth] was on the successful compaction of valuable city space with high-quality housing. With an exhibition on 29 January 2020 the Ministry for Construction is demonstrating how these requirements can be successfully put to practice. The award-winning projects will be shown throughout the exhibition. The prizes and awards will be presented in the scope of the opening ceremony by the Minister of Construction, Dr. Hans Reichhart. (source: https://www.stmb.bayern.de)

The jury found our new construction project "DIE NEUE GERBERAU" (architect: Goetz Castorph Architekten und Stadtplaner GmbH) particularly appealing with its harmonious interplay between the spacious esplanade featuring green spaces and open areas, the surrounding loggias and its excellent transport connections.

"DIE NEUE GERBERAU" consists of 5 apartment complexes with a total of 153 condominiums which are linked by a car-free esplanade. The construction project was completed in 2019.

For detailed information on our further building projects in Munich and surroundings, see below.

Yours, DEMOS

Source: https://www.stmb.bayern.de/med/pressemitteilungen/pressearchiv/2019/90/index.php
CONNECTED TO THE CITY AND NATURE
Companies such as MAN, MTU, Krauss-Maffei and Deutsche Telekom have long seen "Munich-Allach" as a valuable economic location.
In terms of standards of living and quality of life, there are few other neighborhoods in Munich that have developed as well as Allach-Untermenzing in recent years. It's hardly a surprise, given the district has plenty of green areas and the developed infrastructure of a garden city, creating a high quality of life.
Those who love nature will be right at home here, as valuable areas like the Allacher Lohe leisure and nature preserve and the Allacher Forest, which is rich in biodiversity, are right nearby. Beautiful paths for walking and cycling pass by clean lakes where you can swim and enjoy outings and water sports.
And when the excitement of the city calls, living in the "DIE NEUE GERBERAU" condominiums couldn't be more practical. You have the choice: The München-Karlsfeld commuter train station is just 3 minutes away by foot, and a 20-minute train ride from there will take you to "Stachus" in the center of Munich. In addition, the Mittlerer Ring and the A99 will get you to your destination by car very quickly.