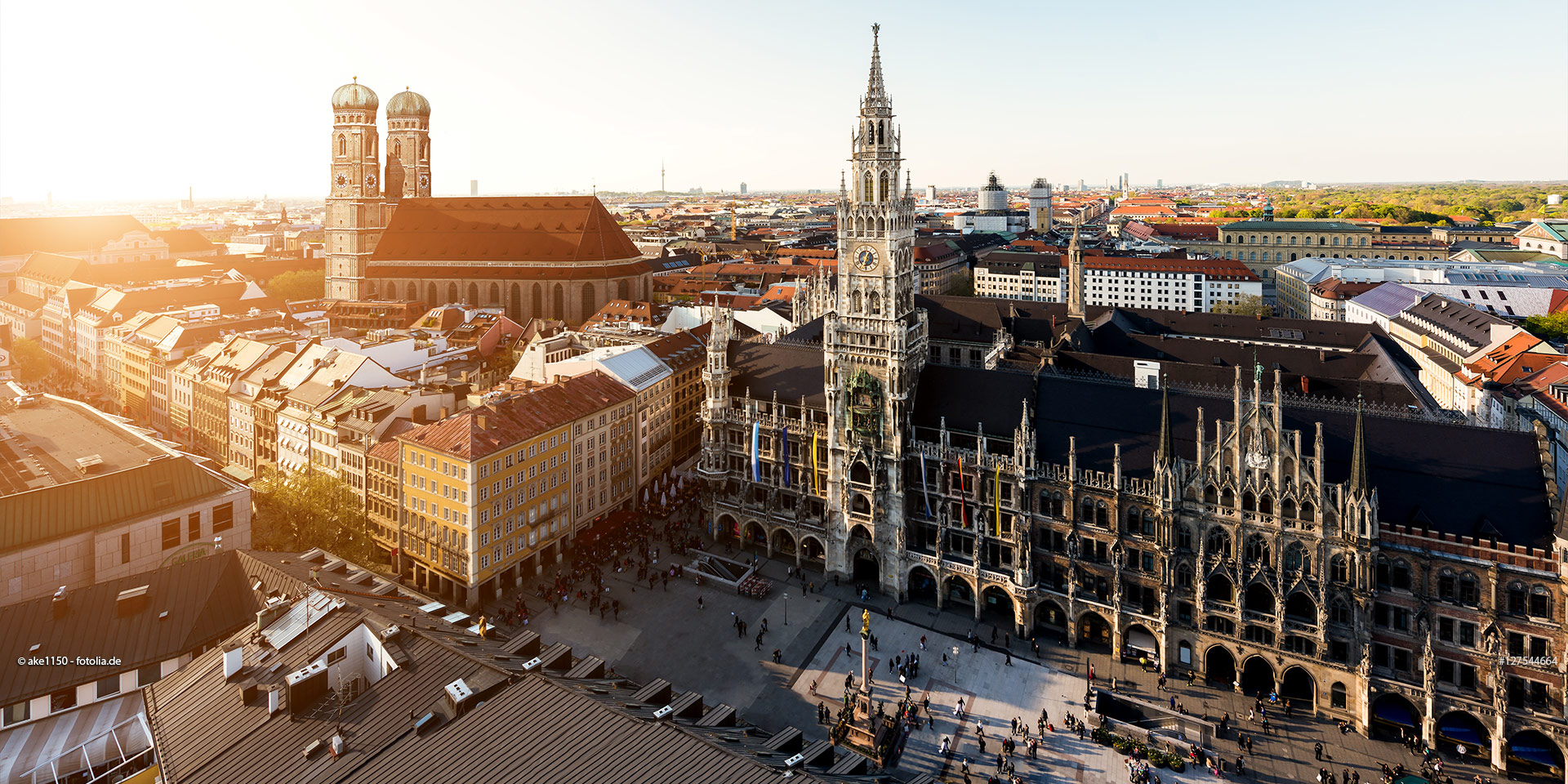 Schwabing – coveted, attractive, unique
Schwabing is among the areas where it is most difficult to find a condominium – especially a new one. But with "Aura Schwabing", finding your dream home and living the Schwabing life is made easier. DEMOS has succeeded in creating space for quality, newly built condominiums in the heart of Schwabing.

With "Aura Schwabing", we paid extra attention to creating the feeling of coming home. We turned this project into a home in which you can enjoy a relaxing, regenerating, and counterbalancing atmosphere after an eventful day. The buildings enclose a beautiful courtyard, the underground parking garage blocks out the sound from reaching above, and the harmonious design of the open spaces is a treat for the senses.
Drawing inspiration from yesterday to pave the path for tomorrow
"Aura Schwabing" recalls the Schwabing spirit of the past: where bohemians once created a world of art and culture, now thrives an urban lifestyle with even more splendor and fulfillment. This is evident with "Aura Schwabing". These condominiums make bold statements when it comes to quality and the atmosphere; they turn urban living into enjoyment with all the frills.
Trust your gut feeling
It is said that extraordinary people give off an aura. Indeed, there is something about them that you can't quite put your finger on, yet it somehow feels familiar and special. But this phenomenon doesn't just apply to people; this palpable charisma can also be found in certain districts, neighborhoods, streets and properties. Their unique atmosphere separates them from the rest and keeps us coming back to them.
Without a doubt, Schwabing possesses such an aura. The most popular district in Munich, it is fascinating, exciting, enticing. And it gives everyone who spends time or even lives here the feeling of belonging to an enviable community. It's therefore no wonder that Schwabing has long been one of the most coveted locations in Munich, not to mention one of the most popular destinations for those who know how to combine urban living with quality of life.

Radiance, personality, character – Schwabing!
This completely unique district has everything the city has to offer and more. Where else are lifestyle and savoir-vivre so enthrallingly combined? Where else are trendy shopping centers and hip cafés so close to laid-back squares, dreamy courtyards and idyllic neighborhoods? What other part of the city is as peaceful and green, yet so vibrant?
The cradle of Munich art and culture, a livable and lovable district, the English Garden and Leopoldstraße, Luitpoldpark and the Olympic Park, liveliness and bohemian culture: much is known about Schwabing, but a lot has been left unsaid. There's hardly another district out there with so much style, so much elegance, so much life. It serves as a role model for many.
An experience of the senses, a delight for the spirit
"Aura Schwabing" is full of everything that makes Schwabing desirable and that sets Munich apart. Take the new Petuelpark, for example, which is just a stone's throw away. From there, all you have to do is let your sense of adventure and level of fitness take you to wherever you want to be. You could head to Luitpoldpark and enjoy a beverage in the beer garden or take a dip in the Georgenschwaige outdoor pool, or you could go to the tennis court and even the Olympic Park, where sports, free time and culture will be awaiting you.
The Leopoldstraße has much to offer and Münchner Freiheit is only 2.5 km away. You can also take care of all your shopping needs at the Euro-Industriepark's specialty stores and retailers. And if you need to go into the city, which almost pales in comparison to Schwabing, the most popular locations are easy to reach.