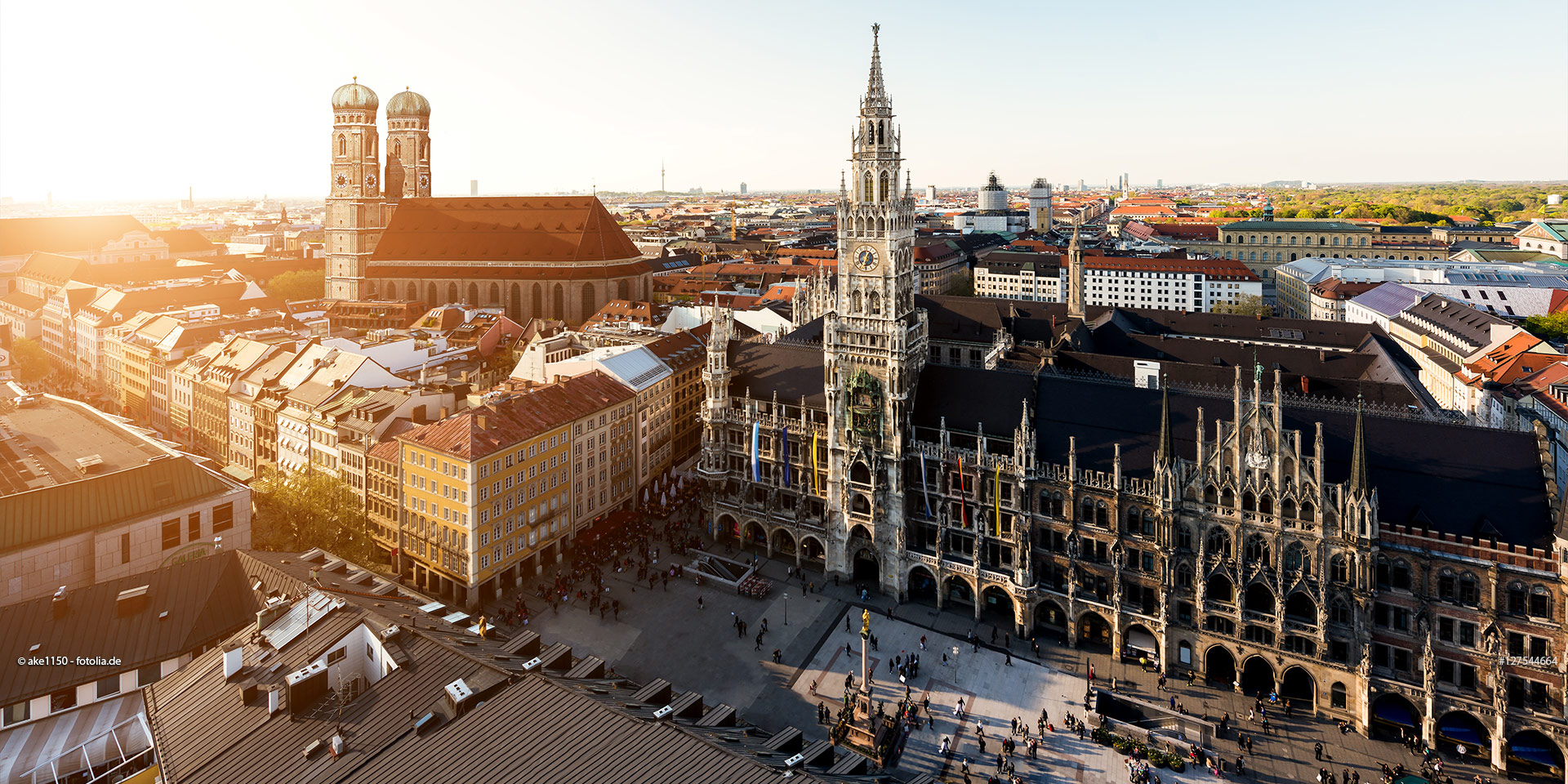 "Das Herzstück"

At the gates of Munich on its south-east side, the world is still very much in order. The conditions here are ideal: an appealing landscape, good local infrastructure, and proximity to the capital of Bavaria.
All the best reasons for choosing Höhenkirch, where quality of life also means where you live. The planned condominiums in the center of the community truly offer every advantage:

a small but splendid condominium complex
location with excellent infrastructure in the immediate vicinity
2- to 4-room condominiums with optimal floor plans
each condominium has a garden, balcony or rooftop patio, most facing south and/or west
some ground floor condominiums come with popular hobby rooms in the basement
appealing, modern architecture
classic brick construction
elevator from basement to top floor
top-quality equipment and furnishings (parquet flooring, brand-name tile from Villeroy & Boch)
Welcome to Höhenkirchen-Siegertsbrunn

In and around Höhenkirchen-Siegertsbrunn you'll find practically all your daily needs centrally and mostly in short walking distance.

The local retailers and service providers prove daily in a lively, diverse manner and with a steady flow of new ideas, that price, performance, and especially service are a top priority. This lets you feel right at home.

Even the educational choices are remarkable given the size of the community; there are multiple kindergartens for the smallest children, as well as schools in town and close by.

The heart beats for the future!

Höhenkirchen-Siegertsbrunn has grown together over the course of years and become a gorgeous place. There are also new town-hall projects to make the place more environmentally conscious, resident-friendly and pioneering.

In terms of expanding infrastructure, local people are actively involved in planning to ensure that their needs and desires are taken into consideration from the very beginning. One example of this is the reconstruction of the commuter train station, now a modern and comfortable building offering rapid and direct links to the city.

Locals eagerly awaited the bypass that now reroutes traffic around the community center. Numerous projects were executed to make the place more child- and family-friendly and age-appropriate, such as kindergartens, schools, an after-school center and a nursery, as well as a new, modern senior center.

Local campaigns like the "Year of Health", the "Partner Town" arrangement with communities in Italy and France, and the annexation of the "Höhenkirchner Forst" show the innovation with which the community thinks and lives.

Siegertsbrunn adventure garden

Here everything is focused on nature and creativity – for all generations! Flower meadows, protected hedgerows, a wetland habitat, a fruit tree orchard, a flower garden, a pumpkin field and a playing field are the main attractions of the adventure garden created in Siegertsbrunn in 1994 through a private initiative.

Adventure multiplied by three – BergTierPark

Between Aying and Feldkirchen, the BergTierPark Blindham features uncommon domestic and farm animals, as well as indigenous wild animals in enclosures appropriate to their species.
Spacious enclosures left in their nature state in wooded areas and fields invite visitors to take their time and let nature have its effect on them.

Adventure brewery in Aying

Catching a glimpse behind the curtain at one of Europe's most advanced brewers is an experience of a very special kind. Take one of the highly interesting and entertaining guided tours of this facility and you'll learn the secrets of its multiple award-winning specialty beers and discover the craft and art of brewing. The reward is instant when you settle down in the adjacent brewery inn with a romantic beer garden that has formed the center of Aying for more than 600 years.
Water adventure on "Kastensee"

In the direction of Markt Glonn, a few minutes' drive will take you to Kastenseeon and its lovely lake, Kastensee. The lake is situated in a nature reserve, the so-called Schwingmoor. You can park in a shaded space below fruit trees. The sunbathing area is spacious and dipping into the moor water, with excellent water quality, is a real treat for the skin. The public outdoor swimming pool with beachside café quickly became a local highlight.