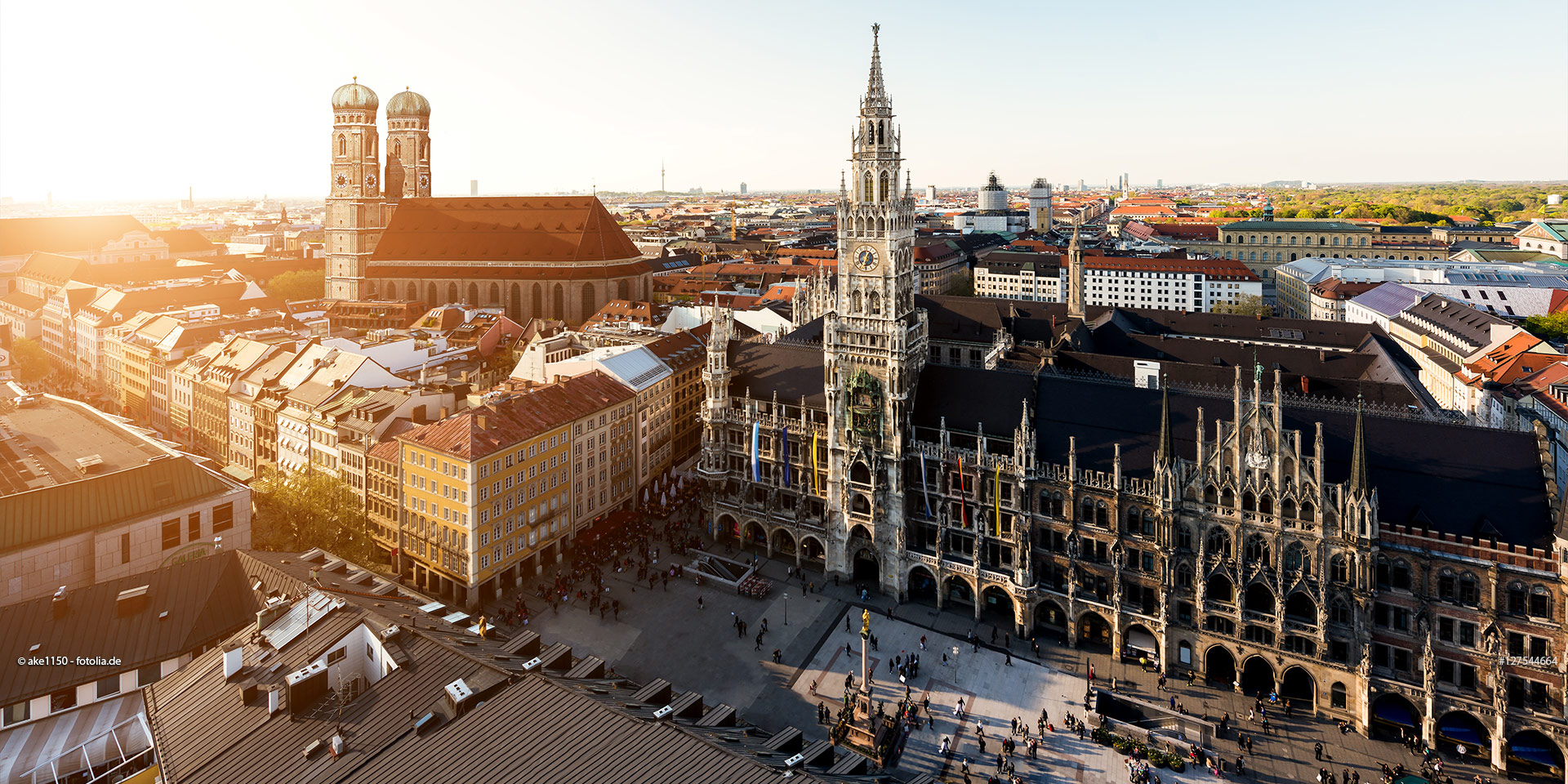 Living in Hallbergmoos is about "city · country · future"

Are you one of those people who just wants a bit more from life? Those who find success important, but family even more important? Those who feel drawn to nature but don't want to do without the pulse of the city? Those who want to give their family a place to live that makes a loving home today, and a secure investment for tomorrow? Then welcome to "STADT·LAND·ZUKUNFT!"

Buildings have been erected on the green location of Hallbergmoos for people who want an active life full of variety. "STADT·LAND·ZUKUNFT" brings you directly into a lively, forward-looking community and lays at your feet a relaxing landscape all the way to the "Isarauen". Here you'll experience the way urban life and residing close to nature can yield an entirely new, inspiring symbiosis.

As you desire

Hallbergmoos is not a place of limitations – and "STADT·LAND·ZUKUNFT" impressively provides a feeling of personal freedom and individuality. There are townhouses and semi-detached houses that each come in two widths. Each house has a garden for additional free space.

The proverbial quality of "STADT·LAND·ZUKUNFT" is typical for DEMOS:
A careful selection of materials and valuable components does more than create comfort; it gives you a secure feeling of investing sensibly in the future.

Diligence creates atmosphere: your new house

Every day you can sense the diligence with which we planned the houses in "Stadt·Land·Zukunft" and assembled the equipment and furnishings there.
For example, when the morning sun shines through windows that stretch down to the floor. When the wood in the parquet flooring creates an especially home-like atmosphere. And when the quality of the brand-name fittings in the premium bathroom speak to your senses. Each detail enables you to feel good every day about living in your home.

well-designed floor plans, with optional variations
floods of light through windows that stretch down to the floor
real wooden parquet flooring in the living / dining area
brand-name equipment and fittings in the bathroom
real wooden interior stairs
triple locks and glass elements on the front door
shutters
multimedia cabling with a 'Homeway' system
2.11-m-high interior doorways on the ground, first and top floors
solar collector to augment sanitary water preparation
basement as high as living space

Live out your style: in beautiful condominiums

Be free. Combine residing in a green idyll with the benefits of a well-planned and very well equipped and furnished condominium The condominiums in "STADT·LAND·ZUKUNFT" represent the ideal home for people with a modern lifestyle who don't want to do without.

KfW 70 efficiency house
heating system with ground water heat pump
underground garage below unit with individual parking spaces
elevator from basement to top floor
spacious patios, balconies and rooftop patios with privacy from neighbors
shutters on all condominium windows; electric-powered on top floor
underfloor heating in apartments
bathroom with additional towel warmers
brand-name oak parquet flooring in all living areas and bedrooms
brand-name equipment and fittings in the bathrooms
some ground floor condominiums with optional purpose-built hobby rooms
A community sets the course

Hallbergmoos has undergone a remarkable development – from being a settlement on the moors to becoming a dynamic, trend-setting community. And the future ahead looks no less successful and impressive. The place in the center of the Erding–Freising–Unterföhring triangle located about 20 minutes by car from the city limits, is quite close to Munich yet has developed all on its own into one of the top locations in the region. With an average age of 36, Hallbergmoos is one of the youngest communities in Bavaria and its 10,000 inhabitants are the result of its attractiveness for being one of the fastest-growing communities in the district of Freising.

Between high-tech and Isar landscapes, between Munich Airport Business Park and recreational fun, Hallbergmoos has many faces and each of them will enrich your life.

prospering location with about 1,400 companies
buttress for the Munich region, the fourth-largest high-tech location in the world
solid basis of small and medium-sized businesses with the best prospects for the future
surrounded by landscape amenable to sports and recreation

You decide the direction

No matter what your destination, you can get there quickly from Hallbergmoos. The commuter train reaches Munich Central Station in a mere half-hour. It takes you 20 minutes to reach Freising or Erding, both cities with excellent job markets. The Munich Airport Business Park is a stone's throw away, a site featuring spectacular architecture and flourishing companies with global operations. The ideal transport links make Hallbergmoos the perfect destination for those who want short traveling times but also love being near to nature!
commuter train station with large P&R parking lot
8 minutes to airport
about 30 minutes to Marienplatz by commuter train
lots of international employers nearby
6 minutes to A92, 15 minutes to A9

It has everything. Plus a little extra

When DEMOS builds you a home, then you can expect to get the most in terms of location and suitability for day to day needs. You're of course just a few minutes' walk from the baker, supermarket and next bus stop. Schools and childcare are nearby, the location is family-friendly and places for relaxation start right on your doorstep.
The street leading to your new home is a little-used residential road. You live in a small but special housing ensemble on the idyllic edge of the city, right next to the tranquil "Ludwigskanal". A small bridge crosses the canal, taking you directly to sports and recreation facilities and further along to jogging and walking paths across fields towards "Isarauen". The same path leads to the nursery, without passing any road-crossings. For you: Recreation and transport links. For your family: Variety and security.

By foot ...
Shop along Theresienstraße: 5 minutes

Nursery: 5 minutes

Elementary school and "Hauptschule" secondary school: 15 minutes


By bicycle ...
Munich Airport Business Park: 5 minutes
"Gut Wildschwaige" riding center: 10 minutes
"Isarauen": 10 minutes