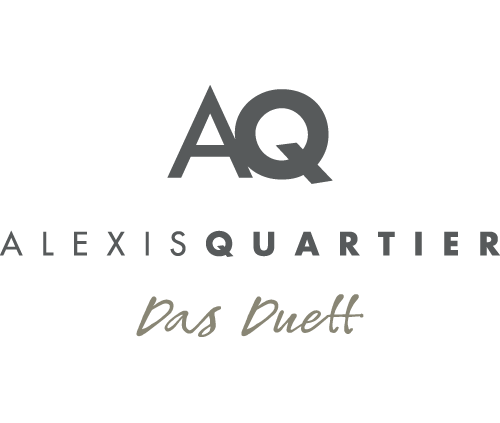 An exceptional ensemble embedded in dignified classicistic architecture is waiting
to be discovered by you: "ALEXISQUARTIER – Das Duett".
In the building project "Das Duett" comprises modern 1- to 4-room condominiums in timeless elegant design with special facade details,
sophisticated floor plans and high-quality fixtures and fittings. The play and recreation areas in the green interior court area offer an exclusive setting to relax and linger.
The attractive residential project ALEXISQUARTIER adjacent to the Gartenstadt Trudering and Truderinger Wald with condominiums, town houses as well as its own infrastructure with park areas, shopping facilities, its own promenade and child day-care facilities is now being developed.
1 to 4-room condominiums
Living space from approx. 27 m² to approx. 121 m²
Mostly with terrace, balcony, loggia or roof terrace
Dignified classicistic architecture
Underground garage with parking lots for houses 1 to 3
Elevators from the basement to the top floor
High-quality brand equipment with options
Energy efficiency category A, Energy Saving Ordinance 2016
KfW 55 efficiency house
Own infrastructure in the district with day care centers and shops for daily needs
Adjacent to the Gartenstadt Trudering and the Truderinger Wald
Numerous attractive employers in the surrounding area
Take a look at the new show flat and see for yourself the quality of our construction and furnishings.
Let yourself be inspired by the modern and cosy furnishing concept of our interior designer.
You can find the contact details for a viewing in the menu item Contact.
Status of the building project: Ready for occupancy soon
ENSEMBLE WITH CHARACTER
The spacious housing estate which is open to the south and the east and features intensive green areas and is surrounded by two connected residential complexes, with the project name "Das Duett" reflecting this idea.
The balcony parapets impress by their curved design reflecting the structure of the buildings with their circumferential cornice. The gentle softness of these shapes offers an intentional contrast to the angularity of the building structures giving the housing sides a special character that stands out from the street scene.
© Text: Goergens Miklautz Partner GmbH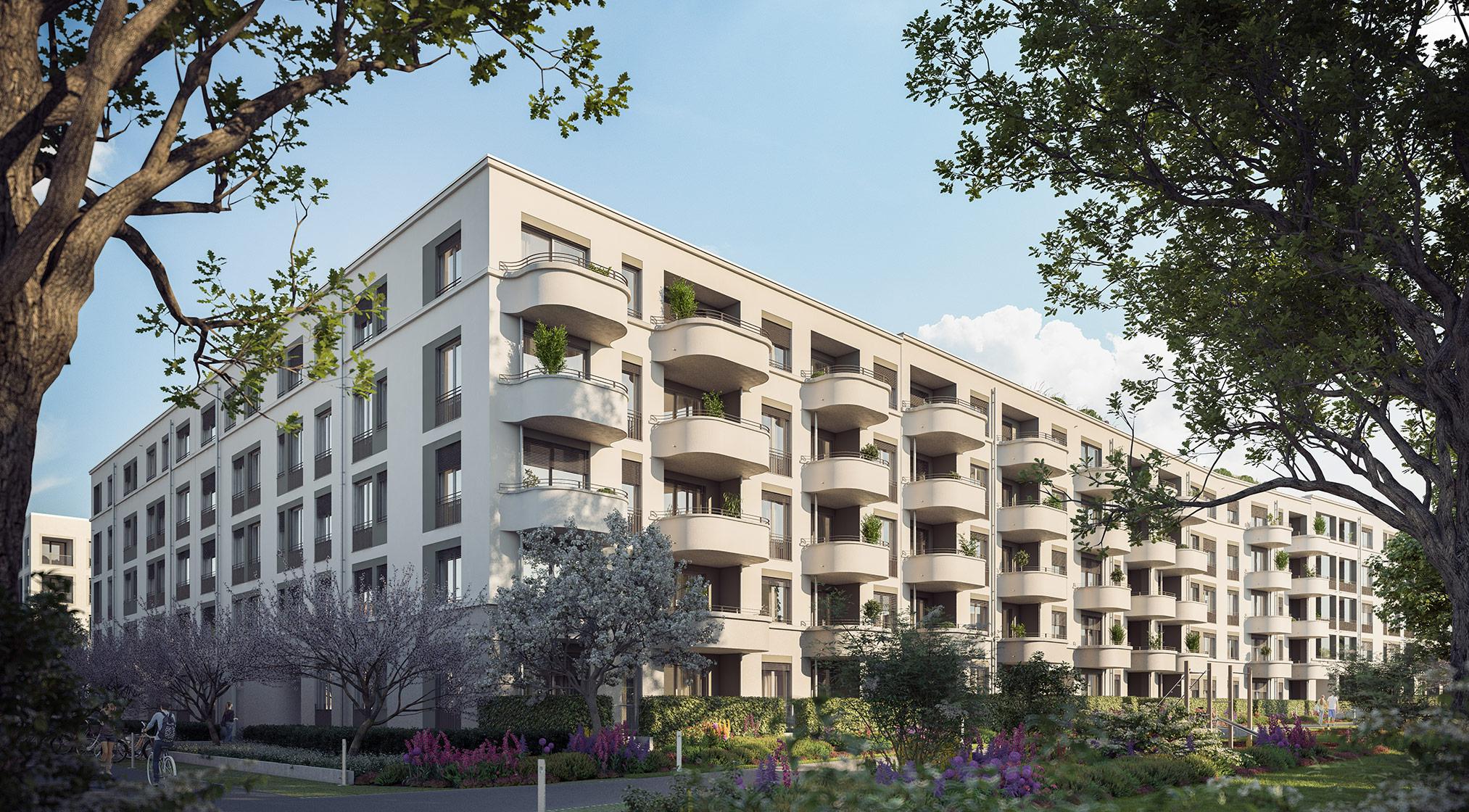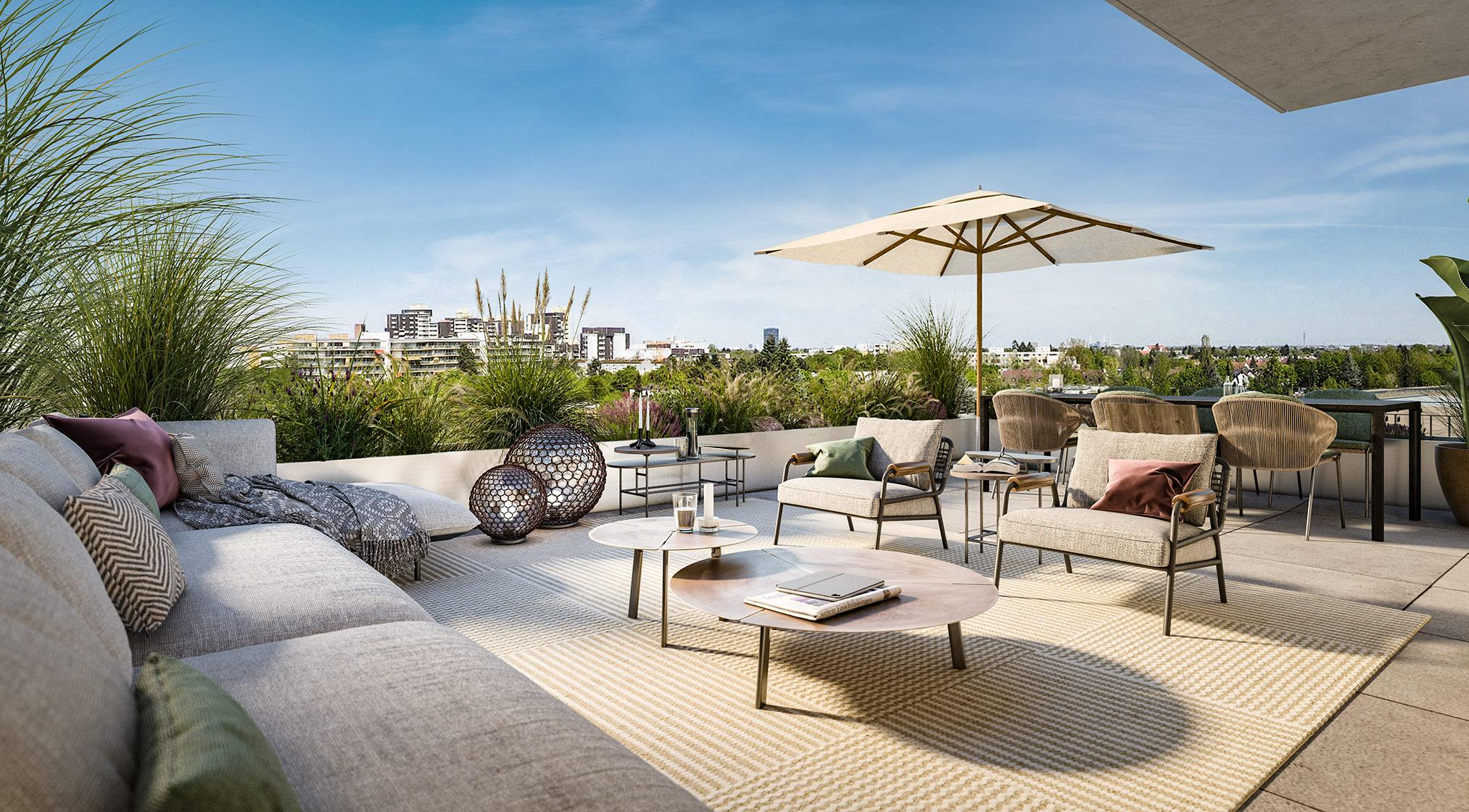 THE APPEAL OF THE NEW PROJECT
Colorful gardens, trees, living open areas and roof terraces …
we not only focussed on the inner values, but also on the outside and surroundings:
After all, we want you to feel not only comfortable when you are within your own four walls, but also when you spend time outside. We are convinced that you will!
The timeless, elegant design with special facade details, abundance of light and selected beautiful materials will ensure that you feel at home.
FRIENDLY, FLOODED WITH LIGHT AND MULTI-FUNCTIONAL
New things are only as good as how they will be seen in future. Therefore, we are planning our condominiums not just for today, but also with an eye to tomorrow. So you will be safe in the knowledge that you have made the right decision for years to come.
IMPRESSIVE AND EXPRESSIVE
Owning your own apartment is pure luxury. Especially in a city like Munich.
Getting this luxury at a fair and transparent value-for-money price and also with such premium equipment and furnishings is a true rarity.
We are pleased to offer you condominiums that give you more than just a place to reside.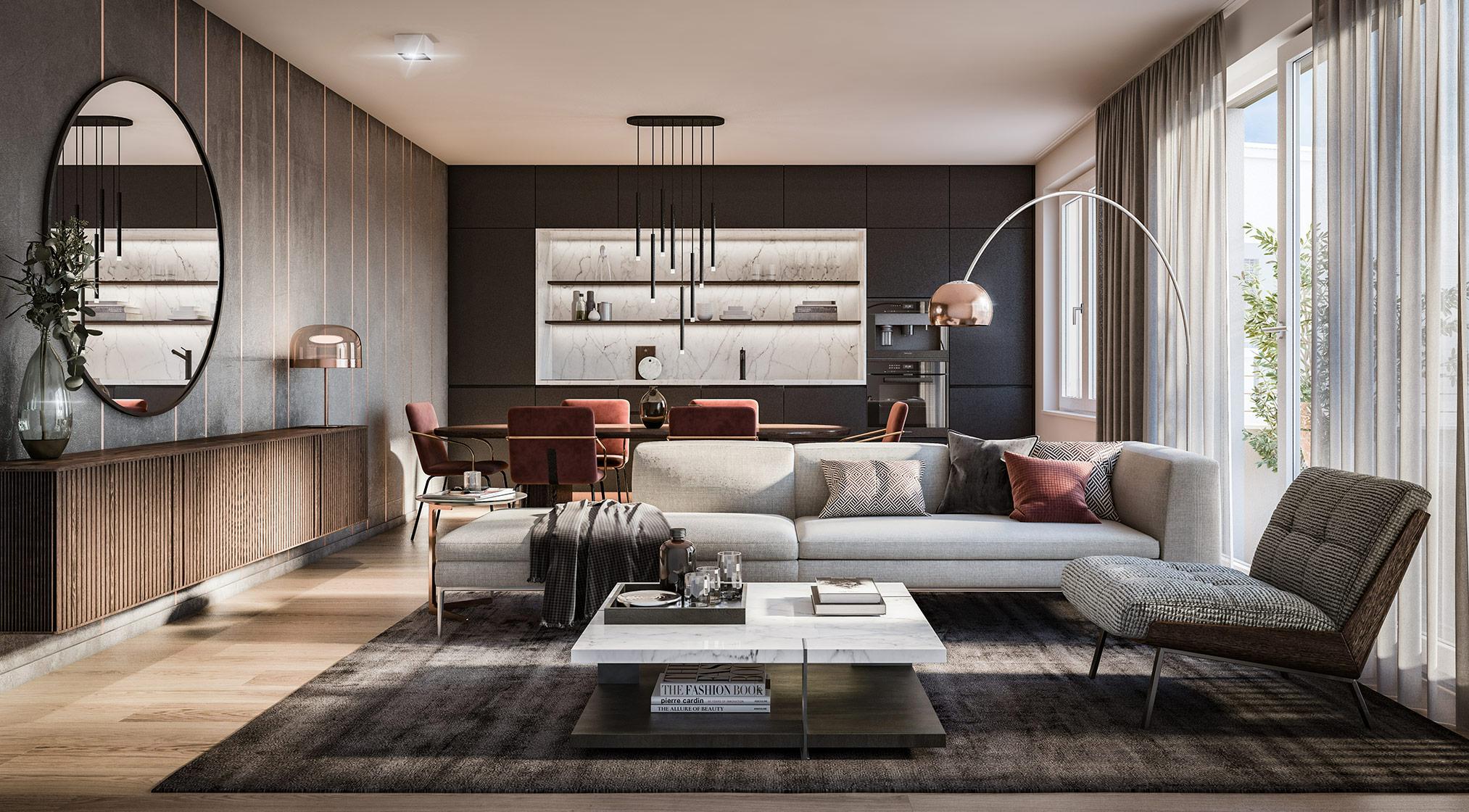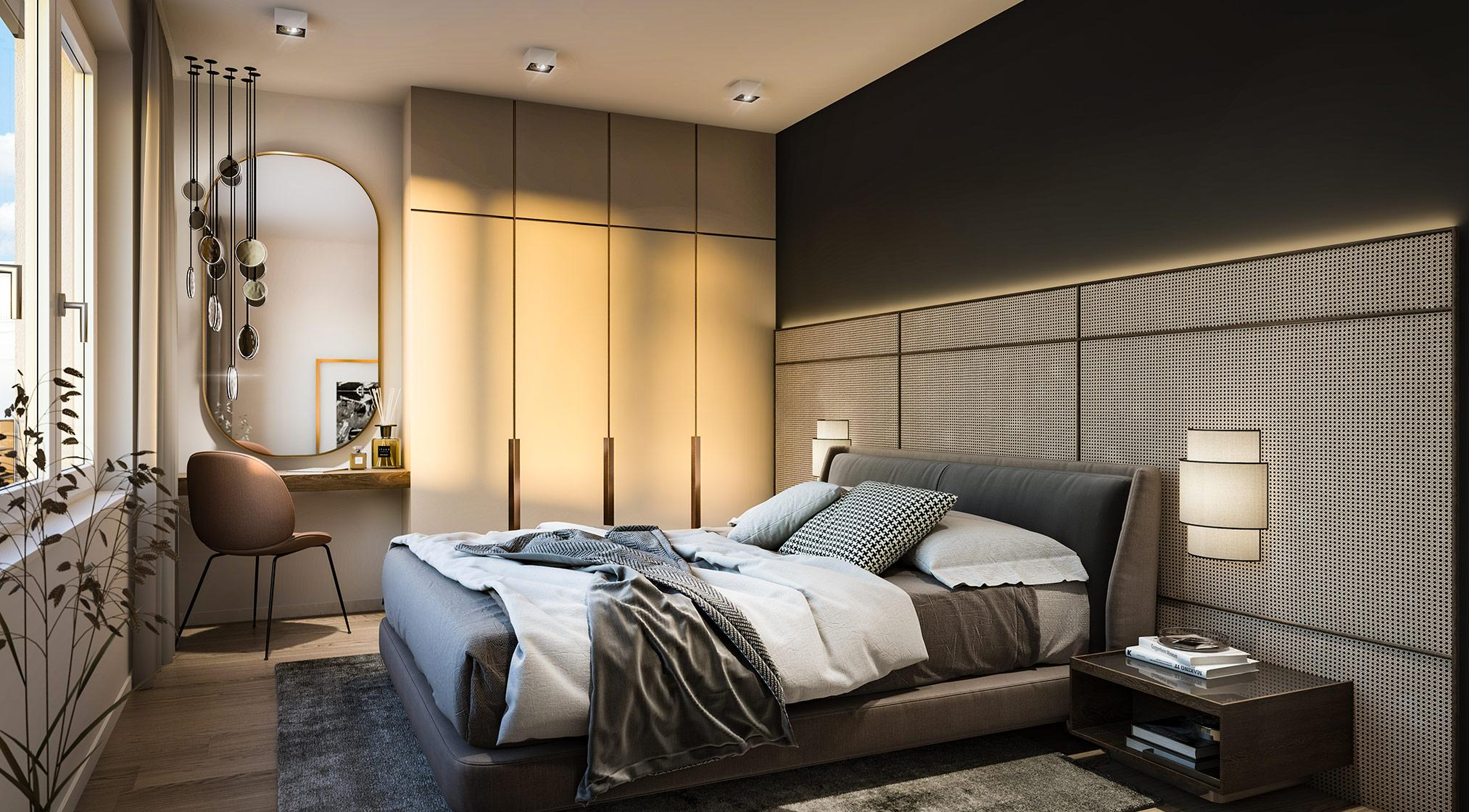 STYLISH AND INVITING
The exterior has to be in harmony with the interior.
Our architects have succeeded in uniting the exterior with the interior perfectly, in a harmonious and wonderful way.
The moment when you arrive, even before you step into your own four walls you will feel at home.
The interior with its smart layout plans and high-quality materials and fittings that can be optionally selected to meet your individual requirements round off this impression.
TIME TO RELAX
ALEXISQUARTIER "Das Duett" sets striking accents.
Large, mainly floor-to-ceiling windows, private gardens on the ground floor, special balconies, protected loggias or the exceptional and specious roof-top terraces with a grandiose view...
"Das Duett" invites all to linger and stay:
Residents, visitors – and the sun.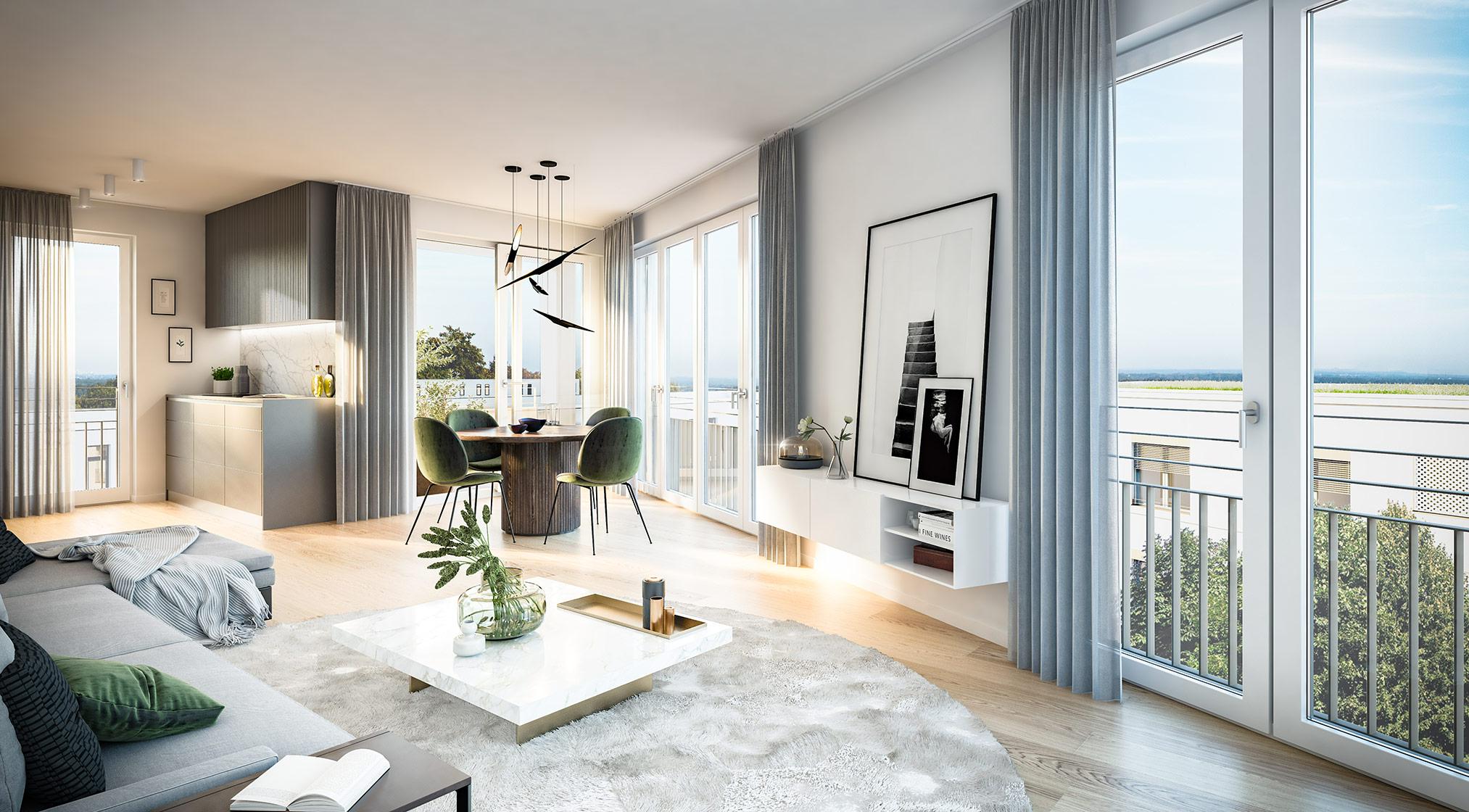 1 to 4-room condominiums
Living space from approx. 27 m² to approx. 121 m²
Mostly with terrace, balcony, loggia or roof terrace
Dignified classicistic architecture
A wide range of floor plans
Underground garage with parking lots for houses 1 to 3
Direct entrances from the underground parking garage to each building
Elevators from the basement to the top floor
Energy efficiency category A, Energy Saving Ordinance 2016
KfW 55 efficiency house
Heating system: Long-distance heating
Furnishings:

Parquet flooring in all living areas
Underfloor heating
Video intercom system
Electric external shutters
Decentralised aeration and ventilation system with heat recovery unit
Headroom in living spaces approx. 260 cm
Towel warmers in bathroom and shower
Superior standard equipment with options, e.g.

washbasin / WC by Laufen
tiles (floor and wall) by Villeroy & Boch
fittings by Hansgrohe
A total of 198 condominiums are being built in "Alexisquartier - Das Duett", encompassing a variety of different apartment types and sizes.
Here are a selection of examples. We would be happy to provide you with more information about the complete range.
We look forward to your inquiry.
* Article 48 of the Bavarian Building Code prohibits any change to this condominium's floor plan.
The purchaser of each condominium must also acquire a parking space in the underground garage from the following options (regarding the availability, the location and the exact technical specifications of the parking systems of the underground parking spaces, please contact your contact person on behalf of DEMOS Wohnbau GmbH in the section "Contact"):
Own parking space; approx. 2,50 m wide; EUR 30,500 - EUR 35,000
Own parking space; approx. 2,60 m wide; EUR 33,000
Own parking space; approx. 2,70 m wide; EUR 34,000
Own parking space; approx. 2,80 m wide; EUR 35,000
Own parking space; approx. 3,00 m wide; EUR 36,000
Details of the provisional energy certificate for residential buildings according to §§ 79 ff. Building Energy Act (GEG) of 08.08.2020:
Type of energy certificate: Energy requirement certificate - draft
Final energy demand: 48,5 kWh / (m²*a)
Main energy sources for heating and hot water: District heating from SWM (Munich's public utility Company)
Year of construction of building, heat generator according to energy certificate: 2021
Energy efficiency class: A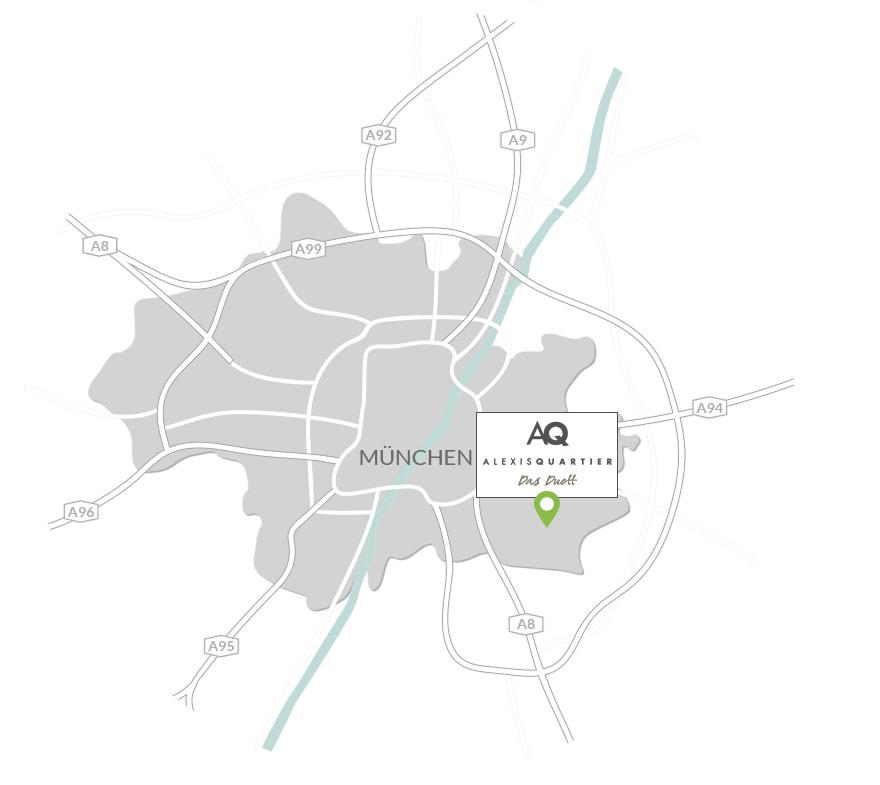 CITY LIVING WITH RECREATIONAL VALUE
We are developing a complete residential district in the south-east of Munich, the ALEXISQUARTIER, which more than meets today's expectations. The contemporary modern architecture is not the only thing that makes living here an attractive proposition. There is also the perfect mix of everyday life combined with high recreational value.
The location is the ideal setting for this: on the one hand you have its natural surroundings, on the other hand the fast and easy connection to our Bavarian capital. And if picture postcards don't quite do justice to the lush meadows and majestic Alps for you, in no time at all you can be right where others only get to spend their holidays.
EVERYTHING IS SO CLOSE BY
Enjoy being a city dweller and at the same time still experiencing the feel of nature. Few places can achieve this balancing act. Yet ALEXISQUARTIER fully satisfies these two longings. There are two oases of peace and relaxation right on your doorstep: Truderinger Wald woodlands and Ostpark parkland. And a short drive further out takes you to the Tegernsee, Starnberger See or to the lush green region of Tölzer Land with its imposing view of the Alps.
Everything is catered for, whether it's art and culture, shopping or simply a night out in the urban jungle! The heart of Munich is easy to reach whether you choose public transport, automobile or even the sporty way on your bicycle. As you can see, a location that not only promises but also delivers what you want.
The Surroundings at a glance:
Neuperlach Zentrum subway station:
U5 station and bus stop for several lines

Several shopping options:
e.g. the Neuperlach shopping center — also known as pep

Many recreational opportunities:
e.g. in the nearby Truderinger Wald woodlands, Perlacher Forst forest, Ostpark and Perlachpark parklands and the beautiful Tölzer Land region

Corporate headquarters:
e.g. Siemens AG, University of the Federal Armed Forces Munich, Infineon Technologies AG Neubiberg

Hanns-Seidel-Platz:
planning/construction of a new district center with social, cultural and retail facilities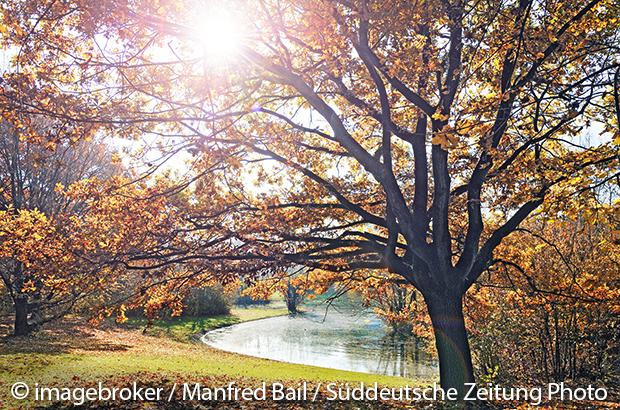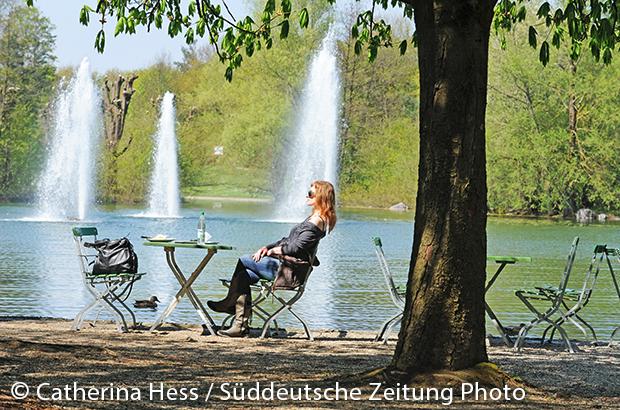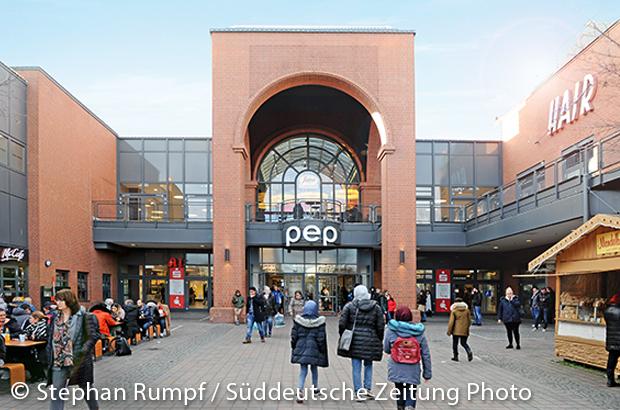 LIVING — WORKING — RESIDING — RELAXING
Single today, family life tomorrow and retirement the day after?
Every stage of life has a place at ALEXISQUARTIER because there is something for everyone right there!
From being close to nature right through to vibrant city life. From excellent shopping facilities through to day care centers, schools, physicians and much more.
In short: ALEXISQUARTIER is the perfect setting for your own new home with the very best prospects for the future.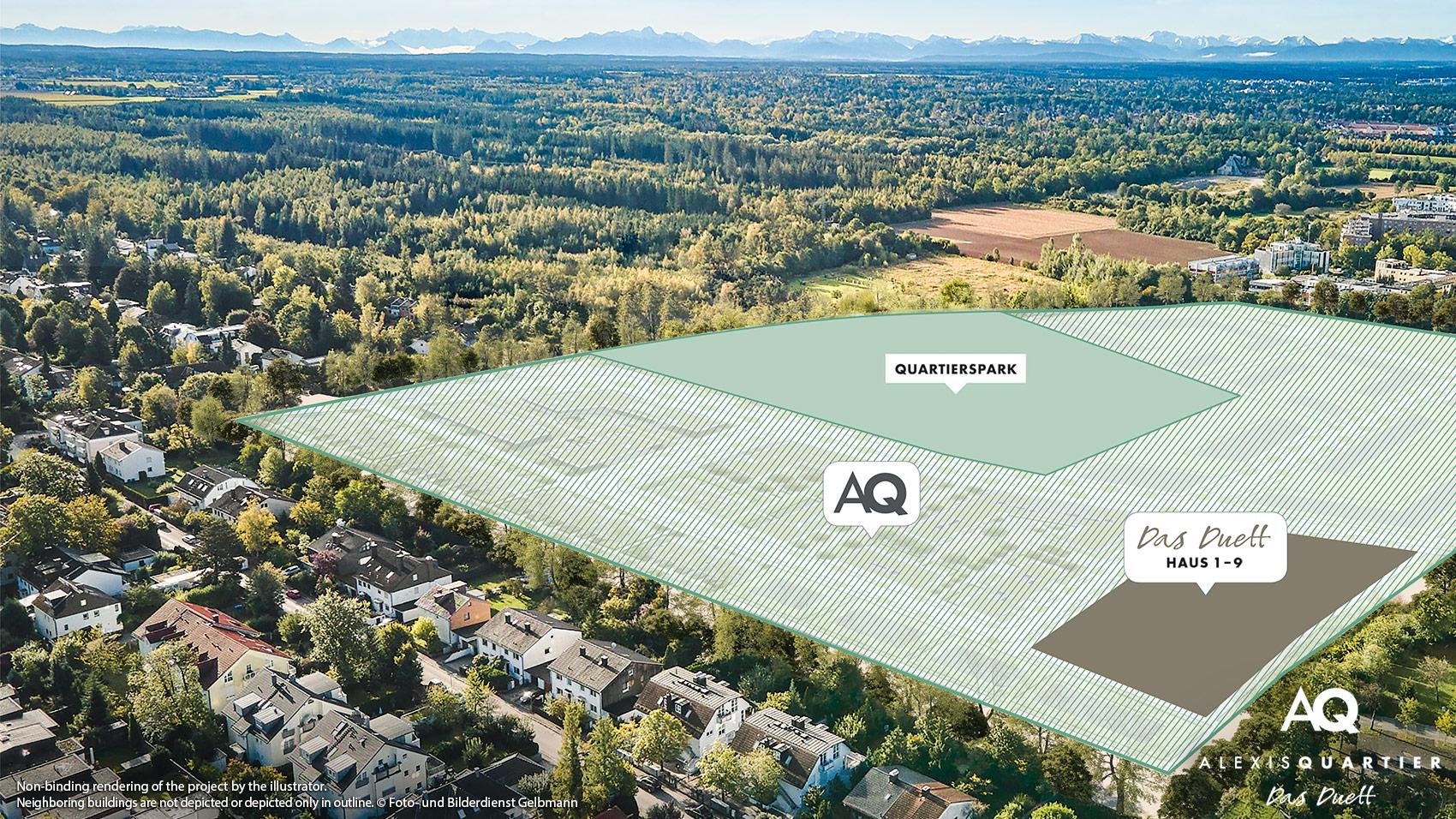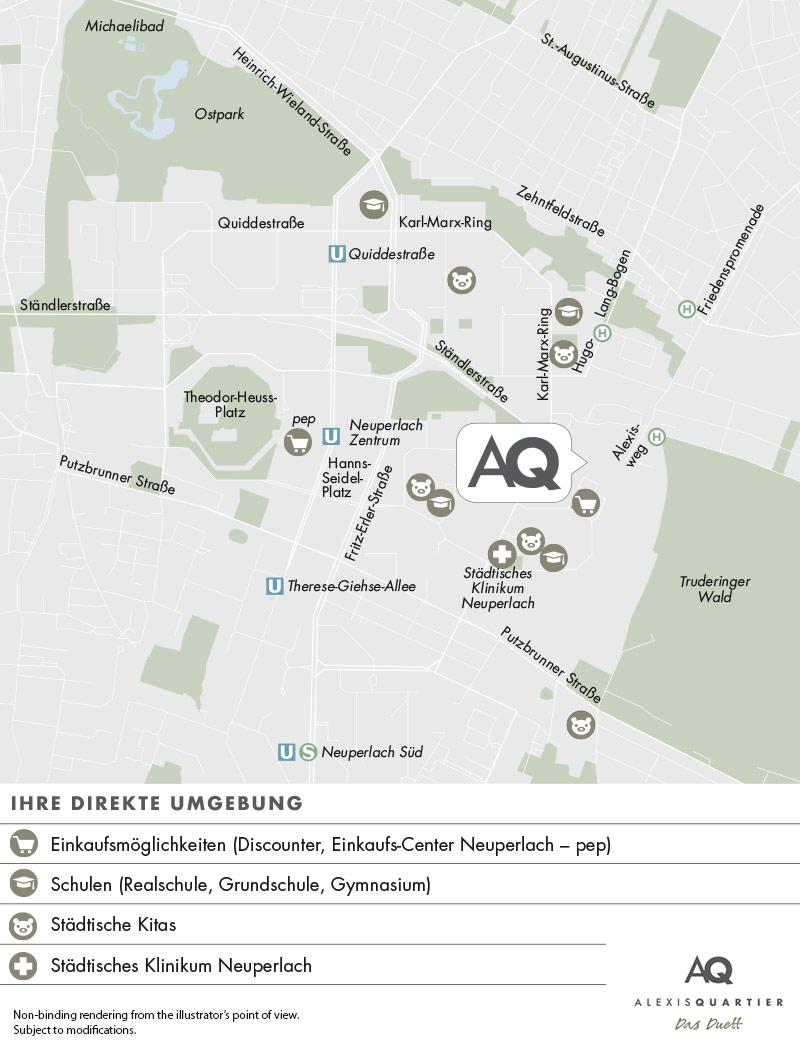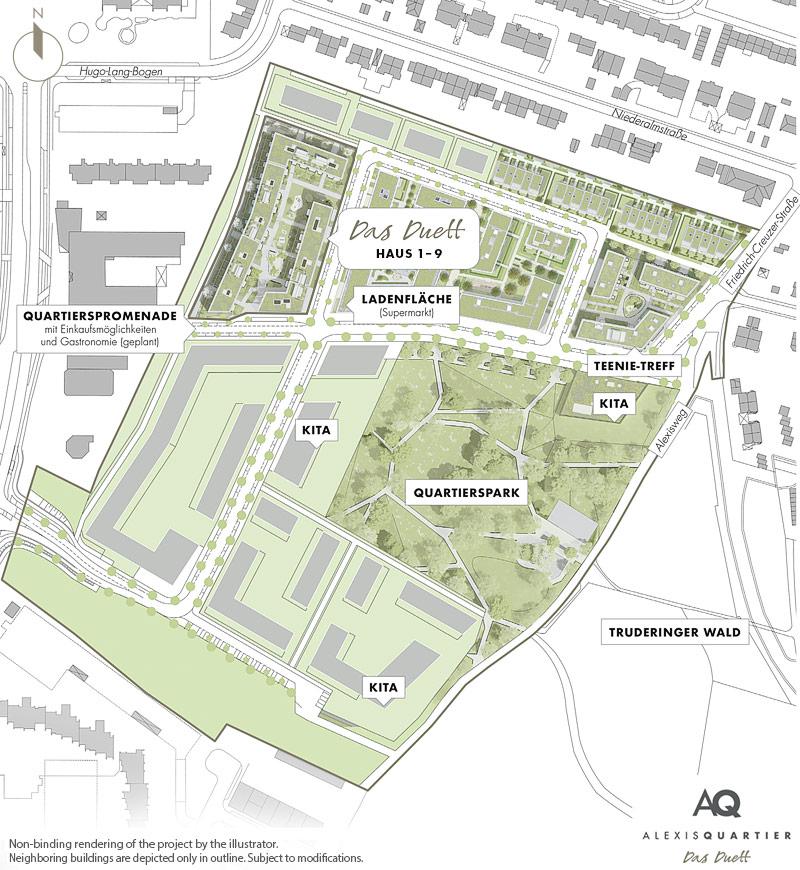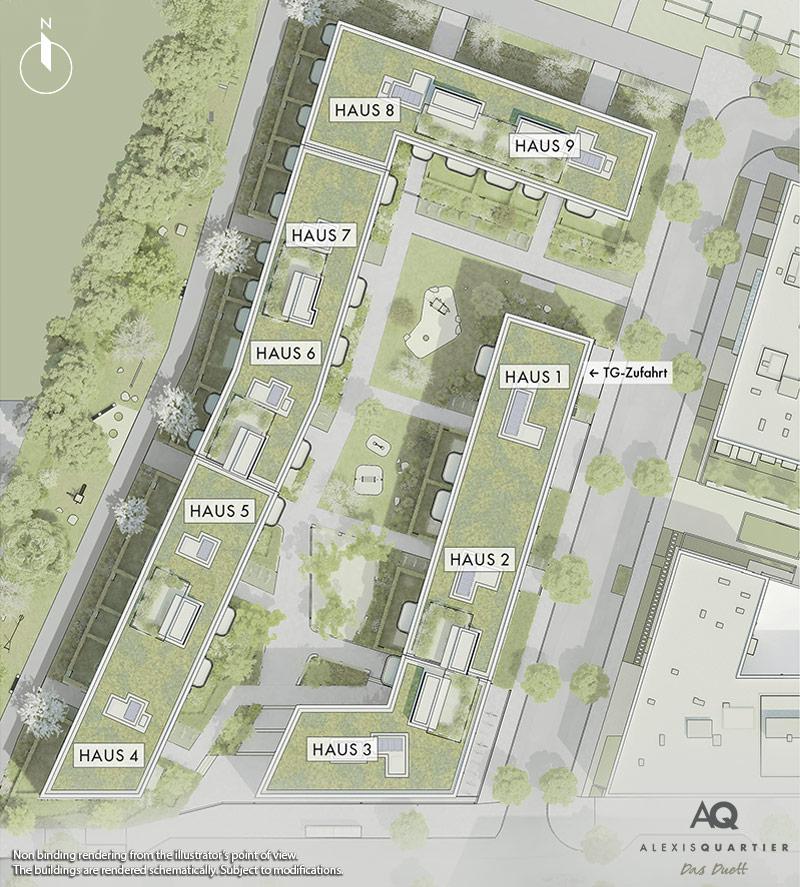 ON-SITE CONSULTATION
Our show apartment is located at Franz-Heubl-Straße 39 in the fifth floor, 81735 München.
Personal consultation by your sales consultants on behalf of DEMOS Wohnbau GmbH:
Monday, Tuesday, Wednesday and Thursday from 15:00 to 19:00 hrs
Sunday from 14:00 to 17:00 hrs
or within the framework of an individually arranged consultation appointment.
You can reach your sales consultants personally at any time under the telephone number:
089 / 231 73 200
How did you hear about our website?*
The fields marked with an asterisk are mandatory, which we collect for the purpose of customer protection (fields 1 - 5 and 9) and for an optimal presentation of our offer (field 10).
Newsletter subscription - Consent to be contacted, as required by data protection laws
Builder: DEMOS Wohnbau GmbH