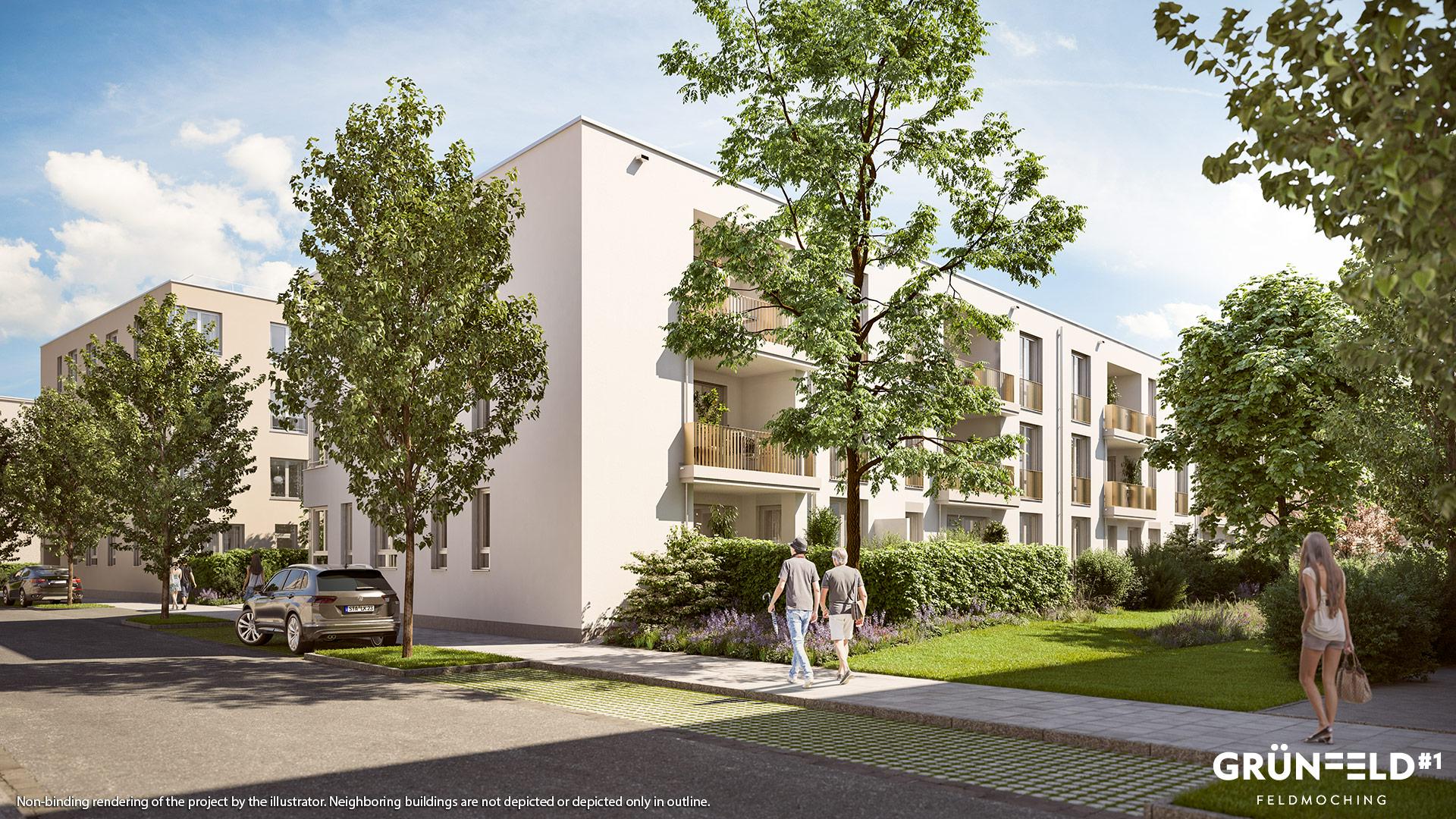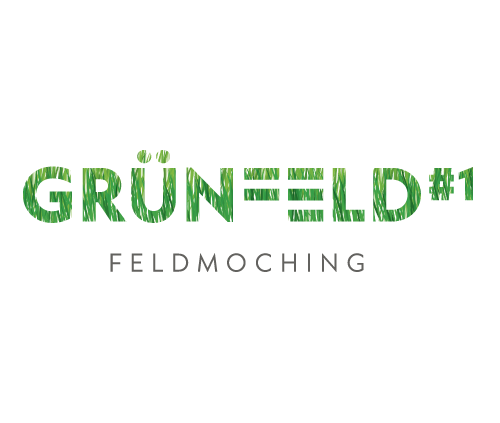 GRÜNFELD stands for living close to the city and nature, which combines the advantages of a big city with
the leisure and recreational opportunities of a life in the "green"!
A new residential area with many advantages is being built on Hochmuttinger Straße in Feldmoching on an 80,000 m² site: two day-care centers, a café and shops for everyday needs are planned in the immediate vicinity. The quarter impresses with its loose development with generous green and open spaces and its own park. Leisure activities in the area include three lakes - and if the city tempts you, you can reach downtown Munich in just a few minutes thanks to the nearby underground and S-Bahn station Feldmoching.
In the first section of GRÜNFELD, which is quiet and central in the new residential area, we are constructing an attractive quartet of buildings for you that are dressed in timeless architecture with clear shapes and expressive lines. Lots of daylight, high-quality furnishings and well thought-out floor plans are among the characteristics of the 1- to 5-room condominiums. Look forward to living that balances active urbanity and relaxing closeness to nature!
1 to 5 room condominiums
Living areas from approx. 33 m² to approx. 118 m²
With terrace, balcony or loggia
High-quality branded equipment with options
Own underground car park
Optional e-charging solution via an operator possible
Type of heating: district heating
Energy efficiency class A
Construction according to the Building Energy Act 2020
KfW Efficiency House 55
Own infrastructure in the district (daycare centers, park, local suppliers)
Status of the building project: Property under construction
AESTHETICS & FUNCTION
Even a first glance shows: The clear, reduced-modern architecture of GRÜNFELD has numerous advantages. For example, protected balconies or loggias as well as lots of sunshine through many floor-to-ceiling windows and light spots around the corner. GRÜNFELD harmoniously brings optics and benefits together.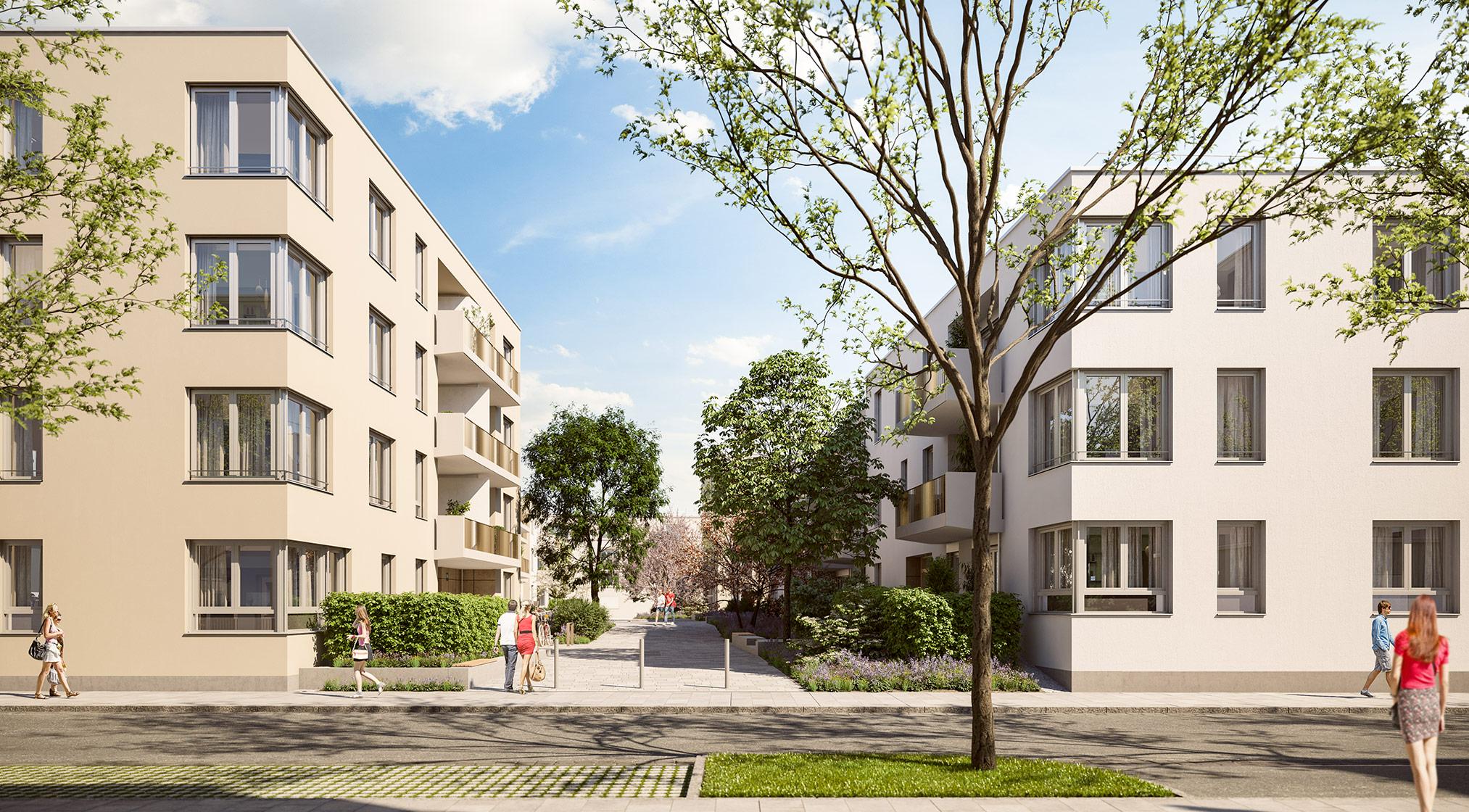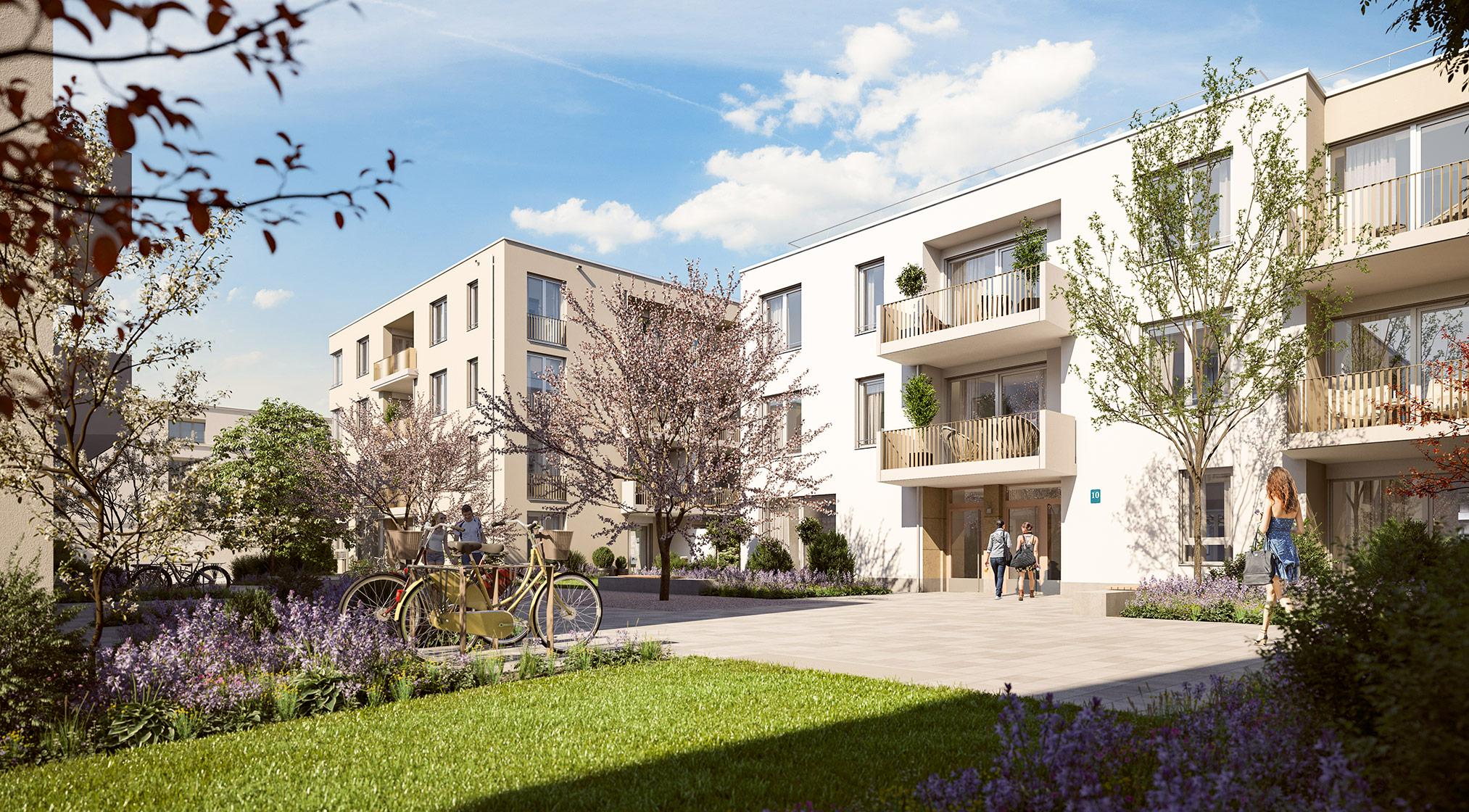 URBAN OASIS
The new building project is being built in a quiet, new residential area with only local traffic. The individual houses can be reached either via footpaths or the entrances to the underground car park. For calm living and a relaxed life between nature and city.
BRAND NEW - BRAND FOR YOU
GRÜNFELD responds to the wishes of its future residents in an exemplary manner: local suppliers, a café, two day care centers and meeting places will be created in the district. U-Bahn and S-Bahn are close by and take you quickly to the city. The property itself is in the center of the district, between the green belt and the district park. Haven't you always wanted to live like this?
VALUABLE
Home ownership in GRÜNFELD is for people who value lasting values. For those who enjoy living and always think about the future. And for everyone who appreciates the value of their own four walls for themselves and their families.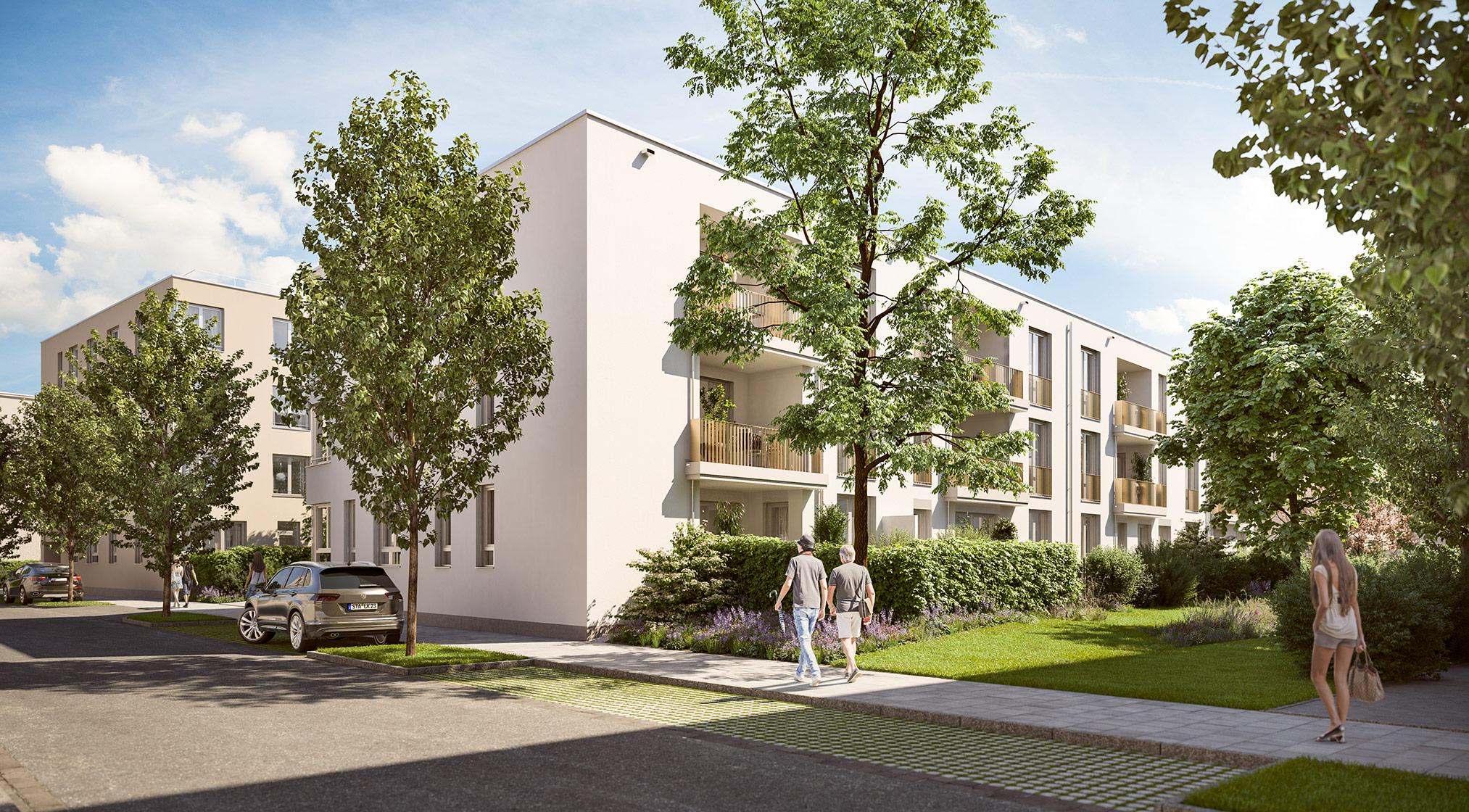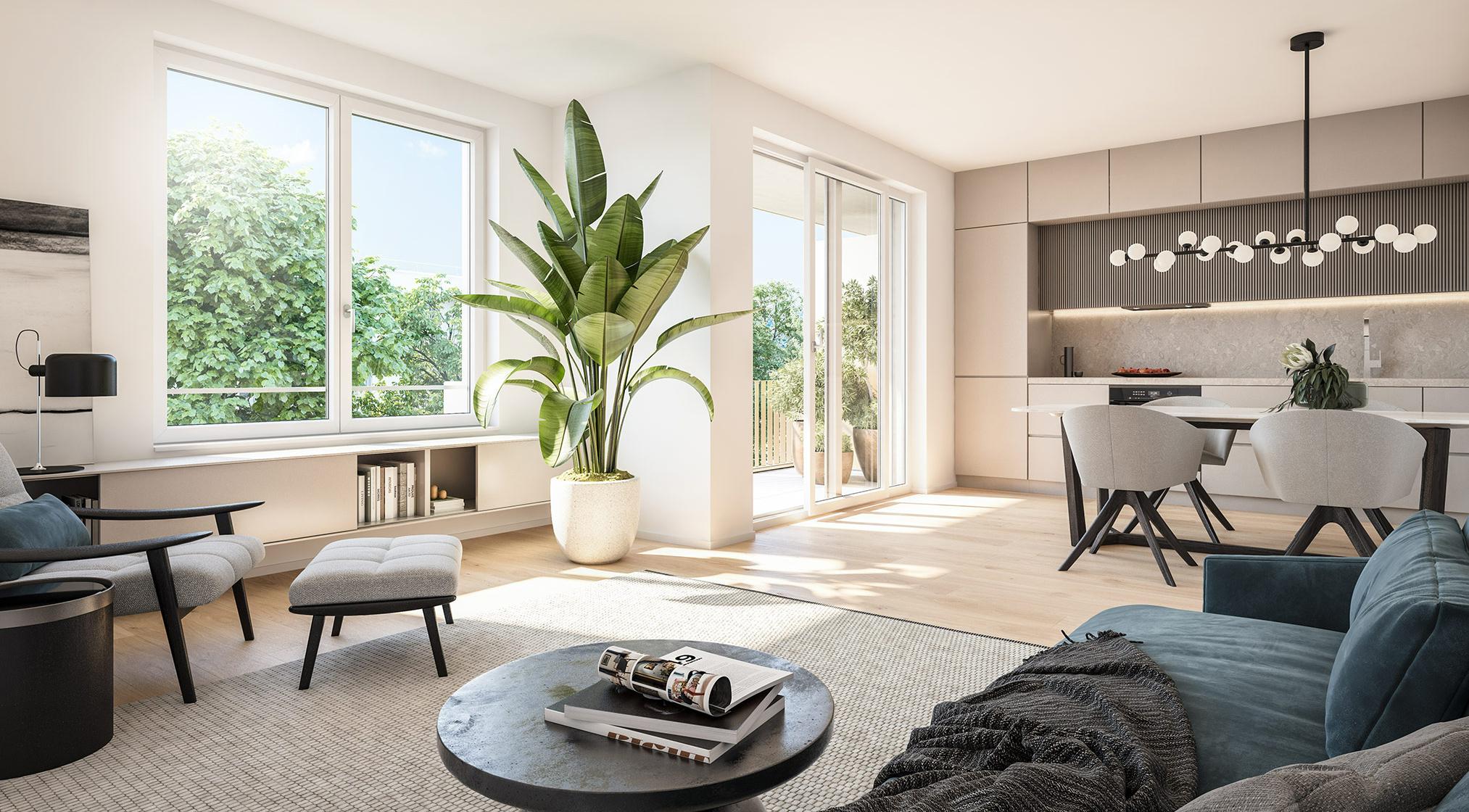 MORE FOR EVERYONE
GRÜNFELD is an offer to get to know living in Munich with its many advantages. This includes a large selection of apartment types as well as high-quality and tasteful furnishings - and a comfortable, pleasant living environment.
Let yourself be inspired.
1 to 5 room condominiums
Living areas from approx. 33 m² to approx. 118 m²
With terrace, balcony or loggia
Modern architecture, diverse floor plans
Own underground car park
Optional e-charging solution via an operator possible
Direct access from the underground car park to each house
Elevators from the basement to the top floor
Requirements according to the Building Energy Act 2020 fulfilled
KfW efficiency house 55, energy efficiency class A
Type of heating: district heating
Own infrastructure in the district (daycare centers, park, local suppliers)
Equipment details

Parquet in all living rooms
Underfloor heating
Video intercom
Electric blinds
Decentralized ventilation system with heat recovery
Room height of approx. 2.57 m (in apartment 3.0.1 approx. 2.73 m)
Heated towel rails in the bathroom and shower room
Upscale standard equipment with options in the bathrooms, e.g.

Washbasin / toilet by Laufen
Tiles (floor and wall) from Villeroy & Boch
Faucets from Hansgrohe
A total of 69 condominiums are being built in "Grünfeld #1", encompassing a variety of different apartment types and sizes.
Here are a selection of examples. We would be happy to provide you with more information about the complete range.
We look forward to your inquiry.
Subject to change and prior sale.
* Article 48 of the Bavarian Building Code prohibits any change to this condominium's floor plan.
The purchaser of each condominium must also acquire a parking space in the underground garage from the following options (regarding the availability, the location and the exact technical specifications of the underground parking spaces, please contact your contact person on behalf of DEMOS Wohnbau GmbH in the section "Contact"):
Own parking space; approx. 2,40 m wide; EUR 24,900
Own parking space; approx. 2,50 m wide; EUR 34,500
Own parking space; approx. 2,60 m wide; EUR 35,000
Own parking space; approx. 2,75 m wide; EUR 36,500
Own parking space; approx. 3,00 m wide; EUR 38,000
Multiple-parker upper or lower; approx. 2,50 m wide; EUR 29,900
Details of the provisional energy certificate for residential buildings according to §§ 79 ff. Building Energy Act (GEG) of 08.08.2020:
Type of energy certificate: Energy requirement certificate - preview
Final energy demand: 48,1 kWh / (m²*a)
Main energy sources for heating and hot water: District heating from SWM (Munich's public utility Company)
Year of construction of building, heat generator according to energy certificate: 2023
Energy efficiency category: A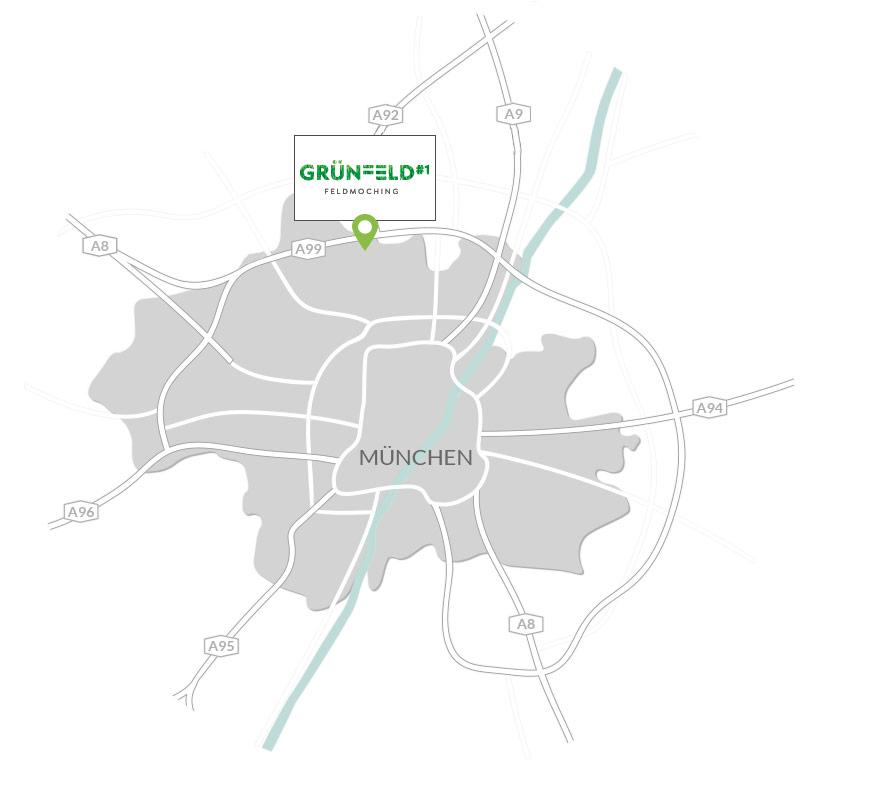 It's nice when the city is so close that you can accept its countless invitations at any time. Even better if you don't absolutely have to: because so much for everyday life and experiences is even closer. The shopping facilities, the leisure landscapes, kindergarten or school. GRÜNFELD stands for Munich with a plus in relaxation - and for urbanity with charm.
IN THE MIDDLE OF IT ALL
A ride on the S-Bahn to the city center takes you past garden settlements, the Fasaneriesee, the Nymphenburg Palace Park and the Hirschgarten. On the other hand, if you decide to cycle, you will pass the Lerchenauer See and cross the Olympic Park. Either way, there are impressions and views that show: The location of GRÜNFELD gives real added value every day.
The Surroundings at a glance:
Own infrastructure in the district (daycare centers, park, local suppliers)
Relaxed walks in Schleißheim Castle Park
Numerous leisure and sports activities in the Olympic Park
mira shopping center with an extensive shopping offer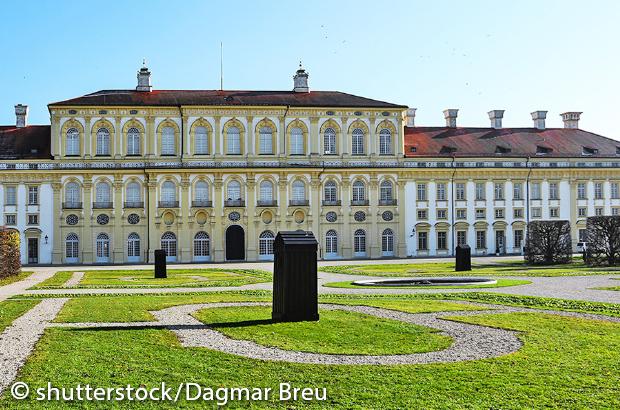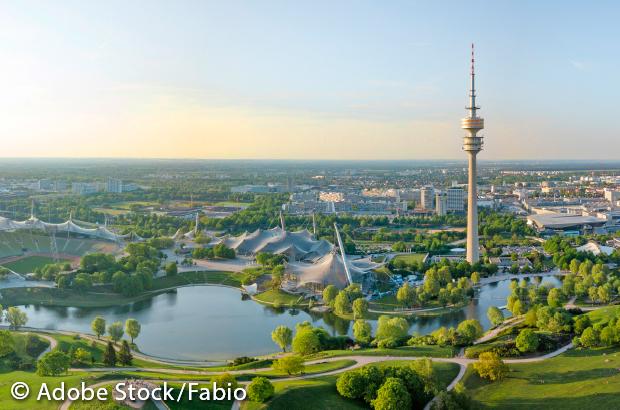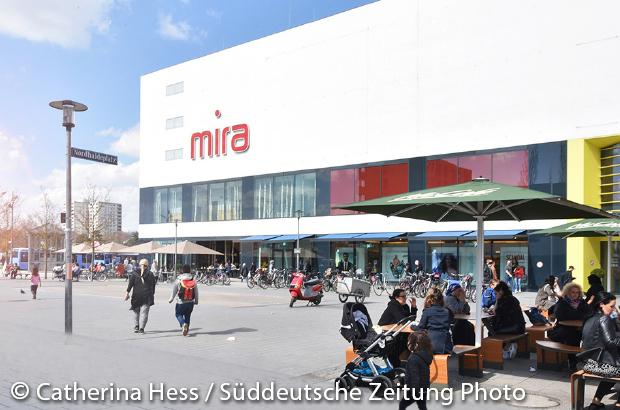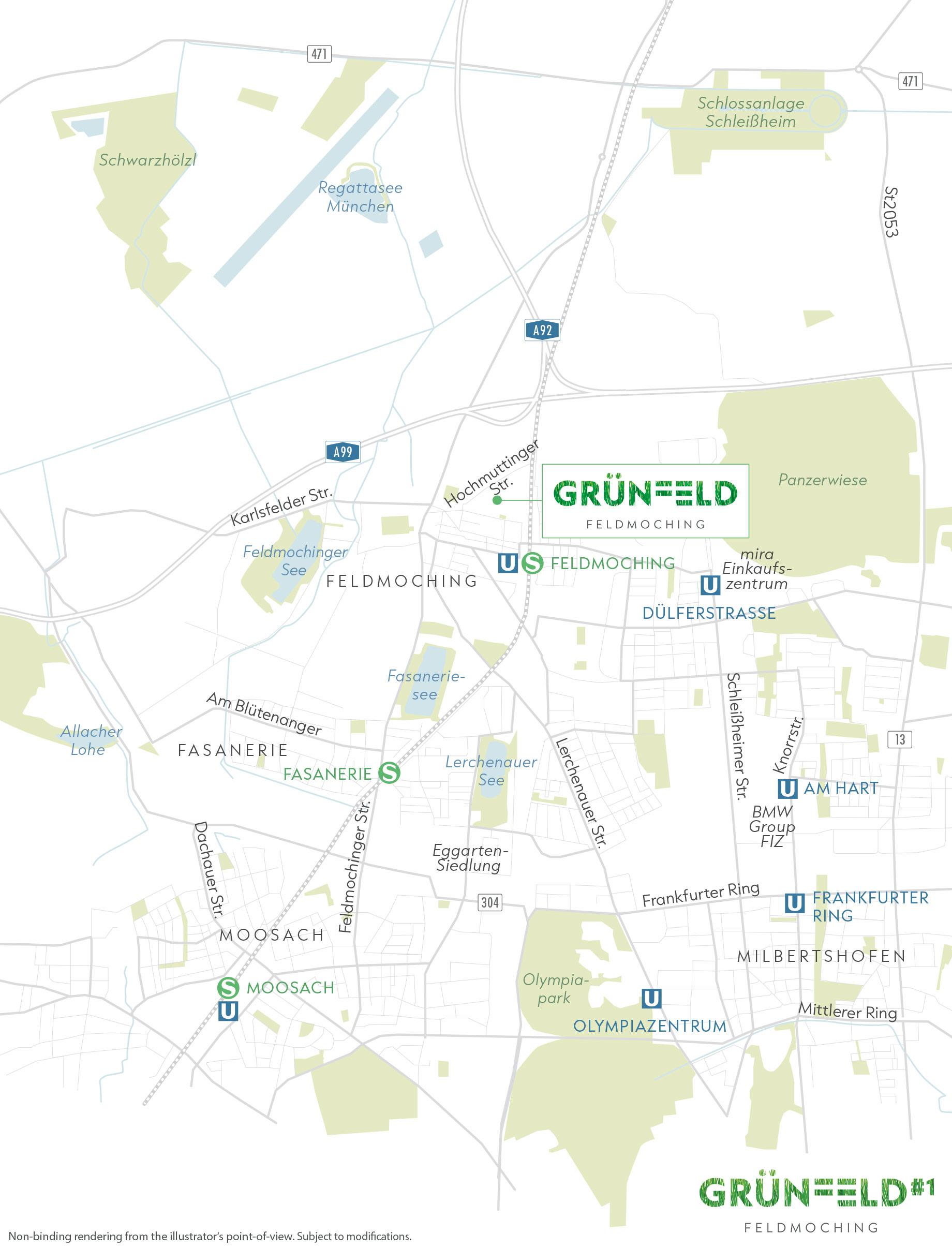 AT THE PULSE OF LEISURE
If you have found the perfect balance of city life and recreation in nature. If you enjoy daily living comfort in a multifaceted location. Then you are at home in GRÜNFELD.
They are not always easy to find - the locations that make a harmonious life and living possible between city and nature. Especially in Munich, the city that has an irresistible attraction for so many people...
And yet we managed to secure such a location for the new GRÜNFELD project: a district that is ideally connected - and is as close to the pulse of the metropolis as the heartbeat of its green surroundings. A neighborhood of short distances and intense impressions. And of course a home that is a typical DEMOS project in the sum of its convincing properties. Look forward to it!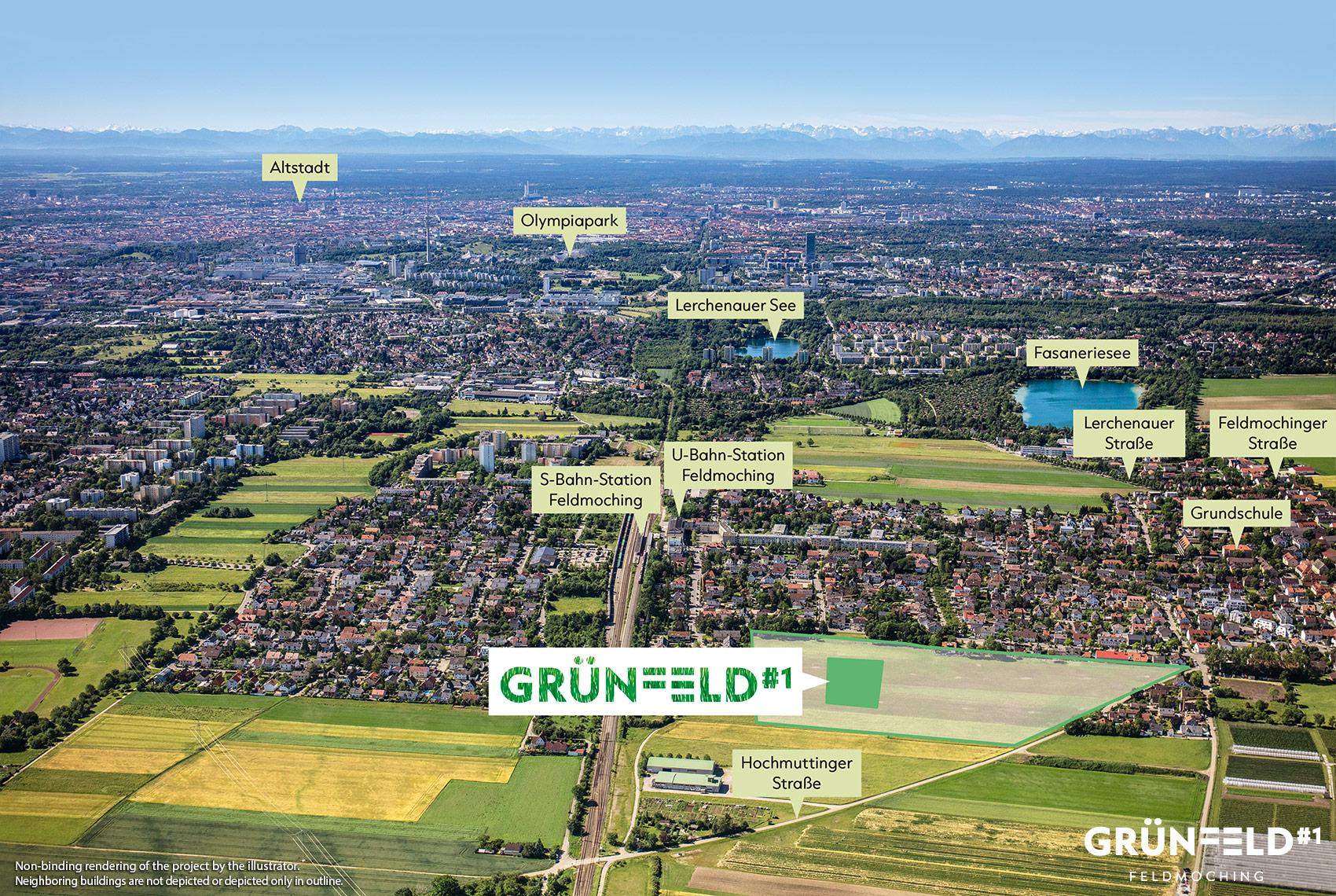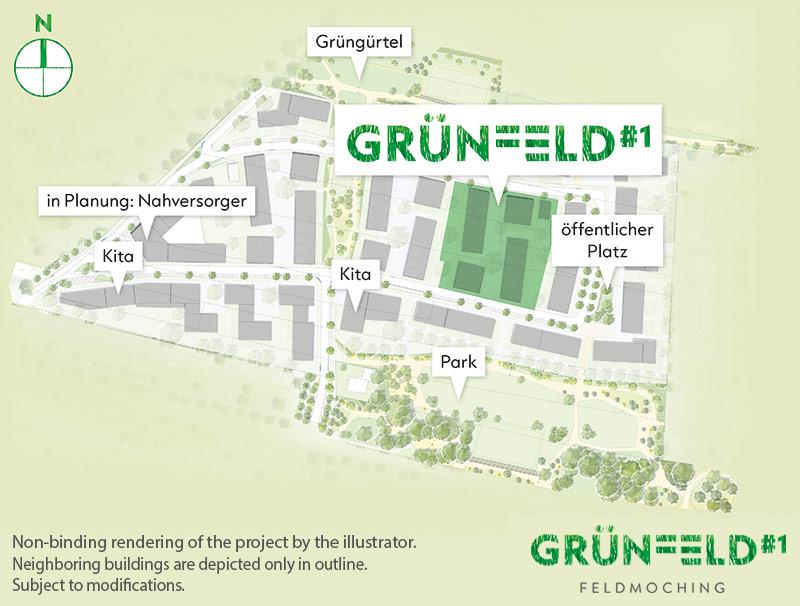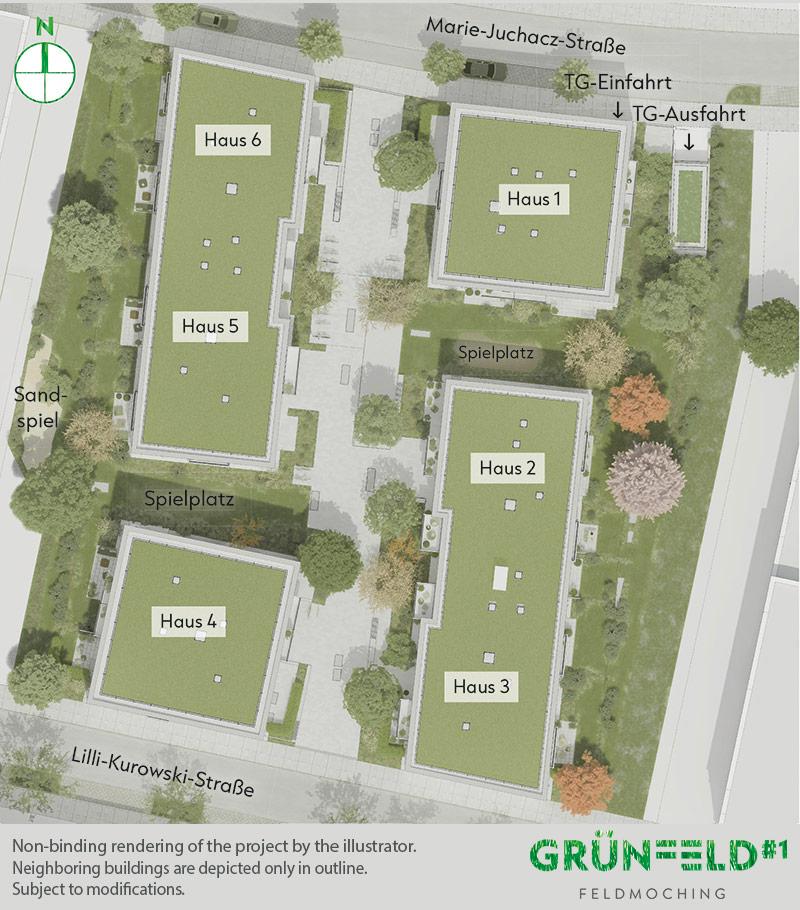 ON-SITE CONSULTATION
Our showroom is located at Lilli-Kurowski-Straße, 80995 München.
Access is via Hochmuttinger Straße and is signposted for you.
Personal consultation by your sales consultants on behalf of DEMOS Wohnbau GmbH:
Monday, Tuesday, Wednesday and Thursday from 15:00 to 19:00 hrs
Sunday from 14:00 to 17:00 hrs
or within the framework of an individually arranged consultation appointment.
You can reach your sales consultants personally at any time under the telephone number:
089 / 231 73 200
How did you hear about our website?*
The fields marked with an asterisk are mandatory, which we collect for the purpose of customer protection (fields 1 - 5 and 9) and for an optimal presentation of our offer (field 10).
Newsletter subscription - Consent to be contacted, as required by data protection laws
Builder: DEMOS Wohnbau GmbH