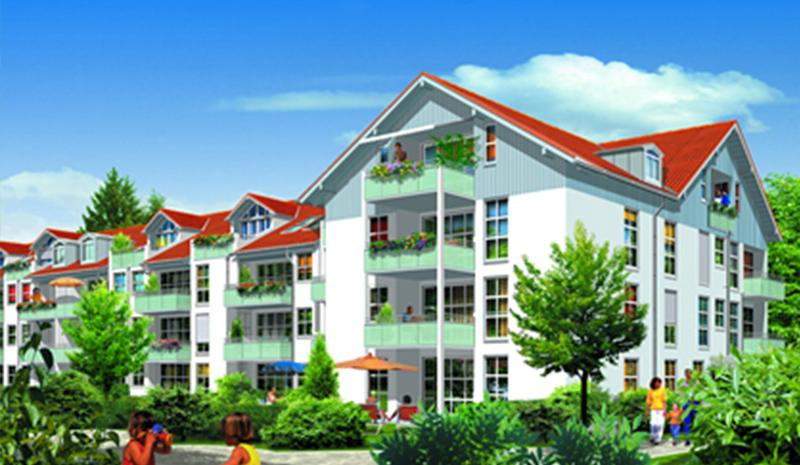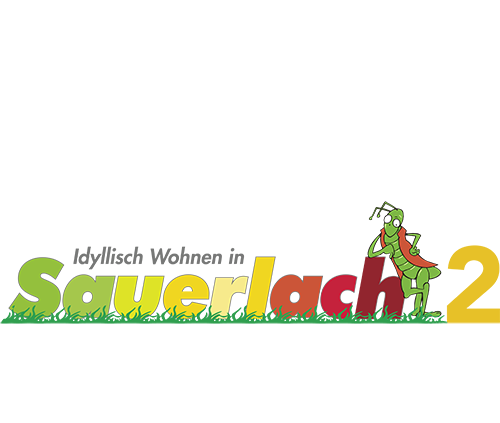 "Sauerlach 2"

In nature and just a stone's throw away from Munich!
This is a place where you won't just dance for joy; you'll leap with enthusiasm!
Unique Residential Quality
all condominiums facing south or west
large balconies
ground floor patios in private gardens
ideal floor plans
classic brick construction
parquet flooring in living rooms, bedrooms and children's rooms
very good infrastructure
lots of recreational opportunities
At home in Bavaria – at home in Sauerlach

An undisputed oasis for nature lovers invites you to let your soul roam free. Green forests and meadows provide more than a pleasant and laid-back atmosphere; they awaken your need for long, relaxing walks and cycling tours. There are a host of wonderful beer gardens along the way for a bite to eat in between, like the long-standing Schmuck inn in Arget and the Sauerlacher Post, a former royal post station.
Are you seeking la dolce vita? Then simply visit the bar of the same name; it'll sweeten at least an hour of your "vita". "You can tell a lot about a person by their shoes, where they're going, where they've been!" Tom Hanks' character delivers this quote in the movie Forrest Gump. You can wear a lot of different shoes here: tennis shoes, golf shoes, riding boots, gym shoes, even the right shoes for a visit to Bavaria's nearby capital, Munich.
"Life is like a box of chocolates – you never know what you're going to get". Another quote from the same film that needs to be revised in this case, because here everyone knows what they're going to get. Bakers, butchers, beverage shops and two supermarkets nearby allow you to take care of your daily needs. You can even buy a box of chocolates here. All residential aficionados are welcome!
Living as if in paradise

When the children are young you give them roots and when they're older you give them wings! In Sauerlach you'll find the perfect place to offer your children a carefree childhood in a healthy environment, one in which all the doors to the future are open thanks to a location that's convenient for mobility. Single people, childless couples and older generations will also find the perfect balance here between daily needs and tranquility.

Living in modern Tradition

Around 500 B.C., the early Bavarians migrated here and called their settlement "Sulagaloh", a word meaning something like "The forest where the sows laugh". There's also some evidence that the area had already been inhabited beforehand, evidence found in barrows discovered in Staucharting and Altkirchen. These date back to the Bronze Age, suggesting the presence of the Celtic and Roman peoples. There is a Roman stone marker near the forest settlement along the Federal Highway 13 indicating that the old Roman road between Augsburg and Salzburg ran through here. The first documented reference to Sauerlach dates to 800 A.D., when Abbot Cudheri von Isen returned ownership of the church of "Sulagoh" to the Bishop of Freising at the Synod of Reisbach.

Where dreams come true!

The gateway to "Oberland", as Sauerlach is often called, is situated about 20 km south of Munich. In contrast to the other surrounding community, Sauerlach, with its 6,500 inhabitants, it has developed relatively cautiously over the last few years and decades. In terms of construction, the greatest value has been placed on organic growth and maintaining the area's small-town character. Nevertheless, it features everything expected of a mature infrastructure. The residents here have also not forgotten their roots and keep their traditions alive. From "Fensterln" to "Freinacht", the appeal of local traditions remains. For example, Sauerlach's charm lies in the attractive interplay between contrasts: an absolutely central location in Oberland, but a rural way of living with urban flair.
All just a stone's throw away

It's hard to find a better opportunity to live centrally yet in a rural environment. The center of town is on the intersection between federal highway 13 (Munich – Bad Tölz) and state road 2070 (Wolfratshausen – Aying). Only 2 km outside Sauerlach, you'll find the "Hofoldinger Forst" ramp onto the federal autobahn Munich – Salzburg. And don't forget the Sauerlach stop on the commuter train line S5 from Holzkirchen to Herrsching and the regional bus line 223 (Gumpertshausen – Otterloh – Sauerlach). Whether it's work or play, you're only a stone's throw away from your destination. In the immediate vicinity, you'll find:
pharmacies
physicians (GP, dentist, vet, pediatrician)
restaurants
schools
sports activities
kindergartens
shops

And you're only a stone's throw away from the zoo (15 min.), the airport (45 min.) and the city center (20 min).