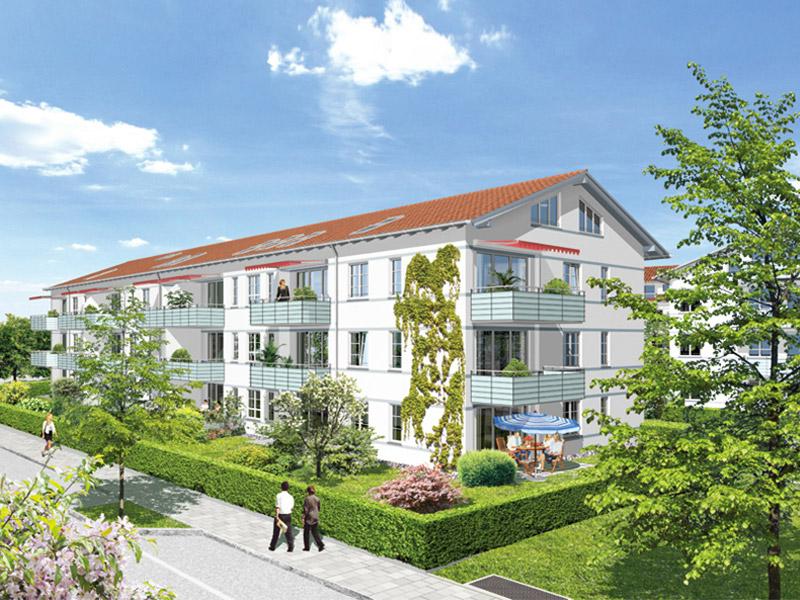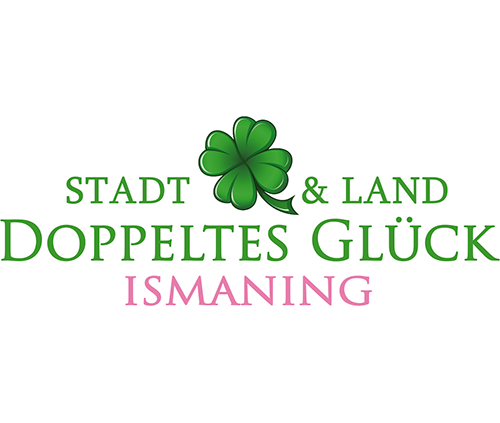 The surroundings: Simply idyllic. The ensemble: An oasis
Ismaning promises to provide peace and relaxation, and the open space design of "Stadt & Land – Doppeltes Glück" helps to uphold this. Surrounded by groves and private gardens, the buildings are grouped together around a spacious central courtyard, doubling the joy residents care will experience, as the name implies (Doppeltes Glück means "twice the joy" in German).
Distinguished and long-term value...
The buildings blend in harmoniously in the surroundings and the architecture is a wonderful combination of traditional styles and contemporary aesthetics, creating a property that holds its value.
This is the place diversity calls home.
The concept of "Stadt & Land – Doppeltes Glück" is geared towards granting its residents as much freedom as possible. This begins with the location – featuring the best of both city and countryside – and is continued by the premium furnishings of the individual condominiums.
Twice as beautiful – simply the right choice
The allure of a pure design, the pleasure from the composition of materials, the joy of beautiful details: at "Stadt & Land – Doppeltes Glück", the attractive exterior architecture continues into the appealing interior style.
Appealing, modern architecture
2- to 5-room condominiums with optimal floor plans
Each condominium has a terrace/garden, balcony or rooftop patio
Classic brick construction
There is an elevator in every building
Premium furnishings
Underground garage with individual parking spaces
The benefits are twofold
Sometimes it seems as though there is no alternative to living in Munich. With its unending growth, plentiful cultural and free time activities on offer, a zest for life unmatched by any other city, and the stunning Bavarian landscape, Munich has it made – as does anyone who lives here.
But if you take your sights off Munich for a moment and look to the north, you will find that living in Ismaning is much more than an alternative to Munich.
How can that be? It's simple: Ismaning is more peaceful and green than in the city, yet its residents can still enjoy the booming city life. Not only is Ismaning easy to reach, there is also plenty to do in your free time and it boasts a perfect infrastructure.

Ismaning: Where the borders are fluid
"Do you live in the country?" Those who live in Ismaning will have trouble answering this question. When you look around at the fields and forests, the lakes and the greenery, it may be tempting to answer with a "Yes." But the companies that are headquartered here, the range of shopping options, the thriving cultural life and the proximity to Munich's transportation arteries prove that while you are close to nature, you are never far from the action.
"So you live in the city?" It's not that simple. Ismaning is surrounded by three lakes, each with a recreational facility. The municipality itself features sports facilities and tennis courts, and the district of Erding boasts a hilly landscape, which is especially appealing to joggers, hikers and cyclists. By bypassing Munich, you can make it to the mountains quickly and easily when they call – before many of those who live in the city. Nature all around, the city in sight: in Ismaning, all options are on the table.
And how do residents of "Stadt & Land – Doppeltes Glück" answer when asked where they live? It's simple: When you say "I live in Ismaning!", you've said it all. It is, after all, quite possibly the best location to live in and around Munich.
When everything is right in the area, you never have to leave
Living so close to Munich can be nice. But what's even better is being able to find everything you could ever want or need right in Ismaning. From grocery shopping to window shopping, browsing the bookstore to an evening stroll through the castle grounds, Ismaning shows why it is such a coveted place to live each and every day.
But don't take our word for it, come see for yourself. An excursion to the "Stadt & Land – Doppeltes Glück" neighborhood will allow you to experience first-hand the lifestyle and daily joy that awaits you.
And if you're pining for the city, no problem. The S-Bahn commuter station is just a five-minute walk away. From there, you can reach Marienplatz in just 24 minutes.